Tom Cruise Continues Sci-Fi Kick With Alien Battle Pic 'Yukikaze'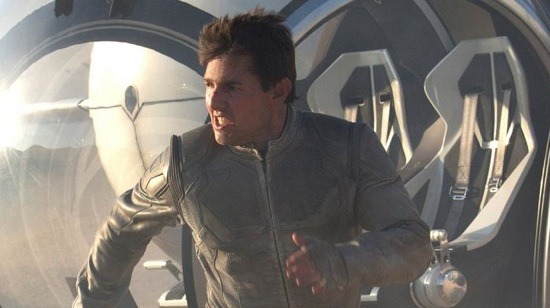 Tom Cruise has jumped from genre to genre over the course of his decades-long career, but lately the one he seems most invested in is sci-fi. This weekend's Oblivion marks his first sci-fi flick since 2005's The War of the Worlds, but he's got several lined up beyond that including Doug Liman's All You Need Is Kill and the time travel flick Our Name Is Adam.
And now, on top of all that, he's now poised to continue that streak with Warner Bros.' Yukikaze, in which he'll play a futuristic soldier engaged in an interdimensional war against aliens. Hit the jump to keep reading.
[Update: Watch the first episode of the Yukikaze anime adaptation after the jump.]
The new film reunites Cruise with 3 Arts' Erwin Stoff and Tom Lassally, who produced All You Need Is Kill. No director or screenwriter has been announced at this time, so it sounds like the project's still in the pretty early stages.
But Cruise will have plenty to keep him busy between now and then. Aside from the sci-fi films mentioned above, he's working on sequels to Mission: Impossible and Jack Reacher, and recently entered talks to star in The Man From U.N.C.L.E. for Warner Bros. and Guy Ritchie. As of last year, he was also linked to star in a Van Helsing reboot for Universal.
[Update: The Playlist dug up the five-episode anime adaptation of Yukikaze; watch the first episode below.]
Discuss: Not gonna lie, I'll be kind of disappointed if the aliens don't shout "You just got JAMMED!" while attacking Earth.