Danny Woodburn Cast As Splinter In 'Teenage Mutant Ninja Turtles'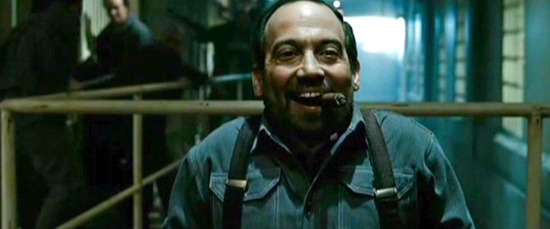 The Teenage Mutant Ninja Turtles have a new mentor. The live-action/CG hybrid film being produced now by Platinum Dunes and Michael Bay, and directed by Jonathan Liebesman, has cast Danny Woodburn as the mutated rat Splinter. The actor will likely do the role as a full motion-capture performance, in the same way the turtles are being created.
The rat acts as caregiver to the four mutated titular turtles, and teaches them martial arts, strategy, and (in most cases) discipline. You know Woodburn from a huge variety of roles on projects as diverse as Seinfeld, Mirror Mirror, Death to Smoochy, Bones, Crash & Bernstein, and Watchmen.
We've wondered whether the actors playing CG characters via motion capture would also be voicing those characters, and casting Woodburn suggests the answer is yes. Alan Ritchson, Pete Ploszek, Jeremy Howard and Noel Fisher are announced as the physical actors who will mo-cap the four turtles, and will presumably voice them as well. Earlier today, Ritchson talked about preliminary shooting on the film, and said that most everything people have assumed about it is wrong.
Megan Fox, meanwhile, has been cast as April O'Neil, while Will Arnett is in the film as well. The combo of Arnett and Woodburn is pretty good, even if the rest of the cast has fans scratching their heads so far. And still, while Woodburn is fun, he doesn't seem like the obvious choice to play a character known for martial arts prowess. Perhaps there will be different physical and voice actors after all, and Woodburn will only voice the character.Teenage Mutant Ninja Turtles will be released on June 6, 2014. [Deadline]