/Film Visits Stark Industries' "Iron Man Tech" Exhibit At Disneyland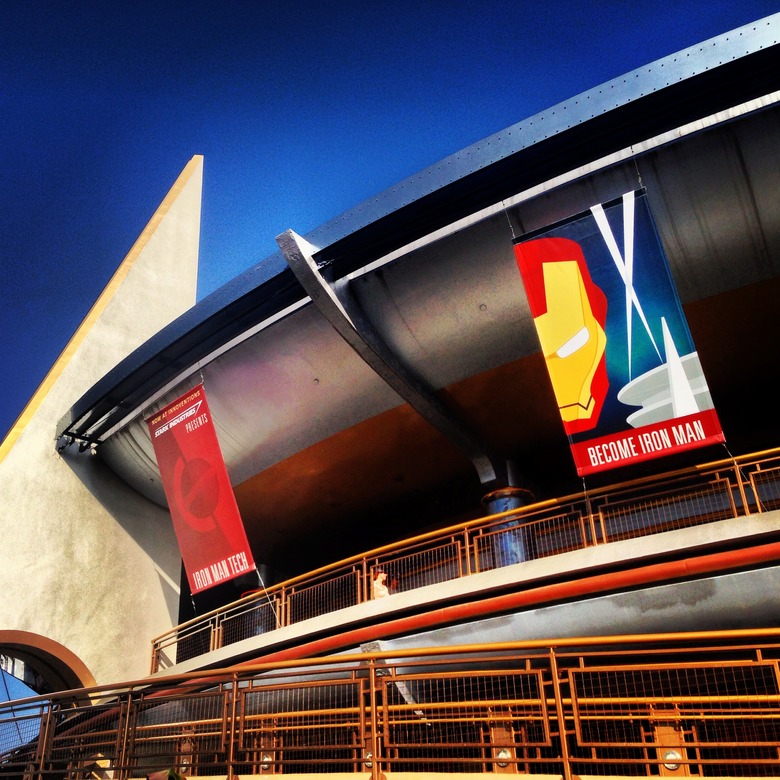 On Friday I was able to get a sneak preview of a new exhibit at Innoventions in Disneyland's Tomorrowland.
Ever since it was announced that Disney was purchasing Marvel Comics, Disneyland fanatics have been fantasizing about how the superhero characters would impact the theme parks. We saw many rumors of big Marvel themed lands or even stand-alone theme parks, but one consistant rumor in the mill was a complete redesign of of Tomorrowland's Innoventions into a Iron Man ride set within "Stark Expo". That attraction might still be in the works (or maybe is just the creation of fan speculation) but the announcement of a Stark Industries presence inside the tech-based exhibit hall got many Disneyland fans excited.
The new exhibit promised to show off "the latest Iron Man Tech presented by Stark Industries" but is really a prop display, a fun tie in to promote the upcoming release of Iron Man 3. See my photos from the opening after the jump, along with my thoughts.
Photos:
2012 Comic Con attendees may recognize the majority of the exhibit from last Summer's show floor, but they didn't get to get this up close and personal. Tony Stark's Iron Man armory is no longer on a stage, you can get really close with all of the Iron Man film armors including the new Mark 42. I'm sure Marvel fans will enjoy seeing these props up close, also affording them to take some awesome photos for Facebook and Instagram.
The other part of the exhibit allows you to virtually "suit up" and operate the latest pieces of Mark 42 armor. This is basically a augmented reality game where you stand in front of a screen (with a hidden Microsoft Kinect camera) to suit up in the Mark 42 and control the Iron Man suit in a series of tests. The game aspect of this set-up is more fun than it should be, but not anything amazing. However, the moment when the Iron Man Mark 42 armor transforms around your own body feels pretty cool. The software gives you a few moments to move around, dance, and play with the new armor — kids will have some fun with this.
The exhibit opened over the weekend and I heard there were lines of over an hour in length to get into Innoventions to check out the exhibit. The excitement for Marvel properties in the theme park is certainly there. Judging from the reactions I saw on Twitter, many seemed to be disappointed with the result. I enjoyed myself, but I didn't have to wait an hour to get in there (If I did, I suspect I may have been expecting or wanting more).
Jay Dreves from Walt Disney Imagineering was on hand for the press preview, and I talked with him a bit about the attraction but didn't get many real answers. One thing that seemed apparent was that Dreves refused to acknowledge Marvel in any way. I asked Dreves why Disney chose to decide this exhibit as Marvel's first appearance in the park and he basically tried to explain that this is not *that*, this is a presentation by Stark Industries, to help promote the movie Iron Man 3. I asked if this could lead to an expanded Iron Man presence in Innoventions, when we might expect more Marvel in the parks, if guests could expect to see a costumed Iron Man character appearances at the exhibit, and many other questions. None of them prompted any interesting answers.
One thing was made clear: The Iron Man Tech presented by Stark Industries exhibit is a fun piece of movie marketing in the Disney Parks, NOT the beginning of Marvel's entry into the parks. That is clearly still in the works — its only a matter of time. I'm still excited and waiting for that day.
Official Release:
Opening Saturday, April 13, the exhibit guides guests through an armory to an exact replica of the Hall of Armor from Tony Stark's Malibu mansion. The suits on display are authentic movie armors – Mark I-VII – featured in "Iron Man 3."
Through augmented reality technology, guests will be able to virtually "suit up" and operate the latest pieces of Mark 42 armor – and even test it out!
And from April 13-19, while supplies last, guests who visit the new exhibit can take home an exclusive "Iron Man 3" poster as part of the "Limited Time Magic" experience at Disneyland.
Iron Man Tech Presented by Stark Industries is appropriately housed in Innoventions in Tomorrowland, which showcases the latest technologies with hands-on, interactive exhibits, games and shows.
The Hall of Armor:
Mark I – Tony Stark built his first Iron Man armor from a "box of scraps" while imprisoned in an enemy camp, and actually used the suit to make his escape. Tony had a little trouble with the flight system, which he didn't perfect until the Mark II.
Mark II – The Mark II is more streamlined than the Mark I and looks more like the Iron Man we know today. It also introduced a holographic heads-up display and remote assistance from JARVIS, Tony's personal artificial intelligence operating system.
Mark III – Tony developed the signature Iron Man red and gold color scheme for the Mark III. The suit also includes armor that can withstand fighter jet fire and explosive shells.
Mark IV – Tony introduced the Mark IV to the world in 2010 when he made a dramatic landing onstage at the Stark Expo in Flushing Meadows, New York.
Mark V – The Mark V is a suit Tony reserves only for emergencies and can retract into a suitcase carried by Tony's bodyguard, Happy Hogan. It is capable of low altitude flight thanks to its light weight.
Mark VI – The Mark VI is incredibly durable and can withstand prolonged and heavy combat situations, such as Iron Man's little tussle with Thor in the mountains of Germany.
Mark VII – Tony first deployed the Mark VII armor during the Battle of New York, when Loki threw him out a window of his penthouse apartment in Stark Tower. The Mark VII can fold into a large pod equipped with repulsors and foldout wings that enable it to fly. The suit is capable of supersonic speeds and even carried Tony through a wormhole and into deep space.
Mark 42 – After the Battle of New York, Tony decided to create different Iron Man armors for every threat you can imagine – here on Earth and out in space. The Mark 42 is equipped with proprietary Stark Industries nanotechnology that enables Tony to "call" his suit to him. Each piece of armor then flies to Tony and attaches itself to him one-by-one, assembling the entire suit right onto his body.