'The Hunger Games: Catching Fire' Teaser Trailer: Katinss And Peeta Are Symbols Of Hope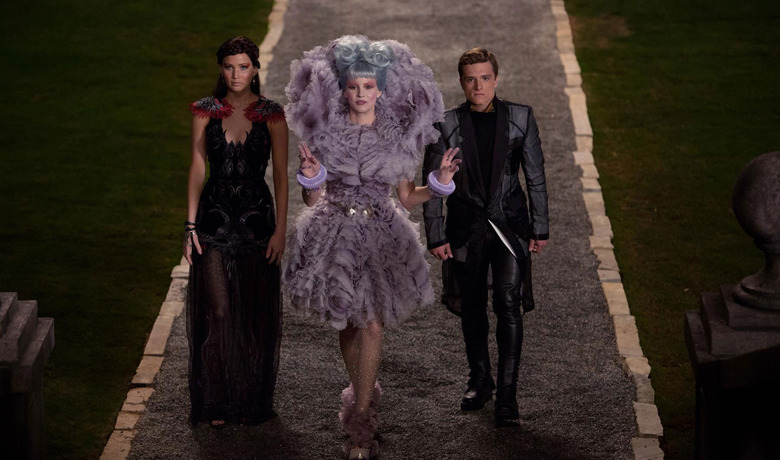 One year after Katniss and Peeta won the Hunger Games, the evil President Snow is not amused. He's got something very special planned for the Victors, something that will shake Panem to its core.
Similarly, one year ago The Hunger Games was a surprise box office champion and November 22, Francis Lawrence's sequel, The Hunger Games: Catching Fire, hits the big screen.
The first trailer for the film is now online. The movie brings Jennifer Lawrence, Josh Hutcherson, Liam Hemsworth, Woody Harrelson, Lenny Kravitz, Elizabeth Banks, Stanley Tucci, Donald Sutherland, Toby Jones, Willow Shields back to roles they played in the first film, and adds Phillip Seymour Hoffman, Sam Claflin, Jena Malone, Lynn Cohen, Meta Golding, Amanda Plummer and Jeffrey Wright. Check it out below.
Thanks to MTV for the trailer.
So, what do you think? It slyly covers the semi-big reveal well, huh?
THE HUNGER GAMES: CATCHING FIRE begins as Katniss Everdeen has returned home safe after winning the 74th Annual Hunger Games along with fellow tribute Peeta Mellark. Winning means that they must turn around and leave their family and close friends, embarking on a "Victor's Tour" of the districts. Along the way Katniss senses that a rebellion is simmering, but the Capitol is still very much in control as President Snow prepares the 75th Annual Hunger Games (The Quarter Quell) – a competition that could change Panem forever.
THE HUNGER GAMES: CATCHING FIRE is directed by Francis Lawrence, and produced by Nina Jacobson's Color Force in tandem with producer Jon Kilik. The novel on which the film is based is the second in a trilogy that has over 50 million copies in print in the U.S. alone. THE HUNGER GAMES: CATCHING FIRE opens on November 22, 2013.