TV Bits: 'Dexter', 'Boardwalk Empire', 'Homeland', 'The Office', 'Veep', 'House Of Cards', 'The Newsroom'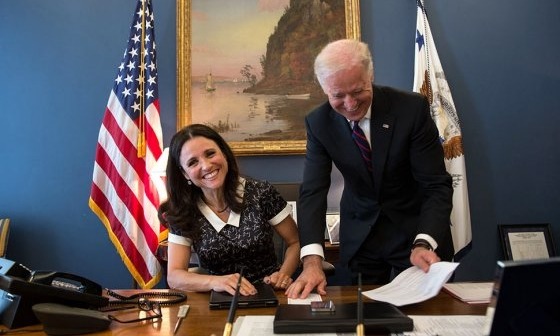 Happy Monday! After the jump you'll find the following TV news:
Patrick Duffy would do a Step By Step reunion
Boardwalk Empire adds Patricia Arquette
Homeland loses Virgil as a series regular
The Newsroom gets a return date and a teaser
AMC sets a date for Hell on Wheels
When are your other faves returning?
House of Cards  Season 2 is about to start shooting
See Veep's Veep meet the real Veep
The Office says farewell via a web series
See the first footage from Dexter Season 8
I would love to work with Suzanne [Somers] again. The Step By Step cast was so wonderful to be with. They were my family and I think a little two-hour special about where these people are — not a documentary, but actually doing a show — seeing where they all come to over the years. It would be so fun to play that goofy Frank Lambert character again, aging another 25 years.
Duffy already knows a thing or two about reprising old roles. Last year, he stepped back into the part of Bobby Ewing for TNT's Dallas continuation, twenty years after the original series went off the air. [THR]
The criminal underworld of Boardwalk Empire will have a new force to reckon with next season. Patricia Arquette has booked a major recurring role as Sally Wheet, a tough speakeasy owner from Tampa with significant mob connections of her own. She's one of several new cast members for Season 4, along with Ron Livingston, Jeffrey Wright, Brian Geraghty, and Eric Ladin. The HBO drama will return later this year. [Deadline]
Meanwhile, Homeland is continuing to pare down its cast as it heads into Season 3. After killing off a few familiar faces in the Season 2 finale and bumping Diego Klattenhoff down from series regular status, the series is also downgrading David Marciano. Marciano recurred in Season 1 as Carrie's surveillance guy Virgil before being promoted to a regular in Season 2. Hopefully we'll still get to enjoy his dry wit in Season 3, even if he pops up less frequently than he used to.
But Marciano has plenty of stuff to keep him busy, anyway. Along with his writing partner Steven Pickman, their manager Craig Dorfman, and producer Aaron Kaplan, he's developing a cable drama about a criminal enterprise that works out of a prison. Marciano won't lead, but may pick up a supporting role. [Deadline]
Get ready to relive the Mitt Romney presidential campaign all over again. HBO has announced that Season 2 of Aaron Sorkin's The Newsroom will kick off Sunday, July 14. Check out the bizarrely creepy trailer below.
Hell on Wheels is on track to return to AMC this summer. The network has set the third season of the transcontinental railroad drama for a Saturday, August 3 premiere, following an entire day of Western-themed programming. [TV Line]
If you're suffering from withdrawal after your House of Cards marathon, fear not — help is on the way. Soonish. According to actress Constance Zimmer, the Netflix political drama begins shooting Season 2 in just a couple of weeks.
The second season will consist of 13 episodes to hit sometime in 2014. [Deadline]
News anchors and trains not really your thing? Fortunately, there are also dozens of other shows set to return or premiere over the next several months, from reality trainwrecks like Hoarders: Buried Alive (April 17) to prestige dramas like Masters of Sex (September 29). THR has the comprehensive list of dates.
HBO's Veep doesn't exactly portray the office of the vice president in a flattering light, but our real-life second-in-command doesn't seem to mind. Joe Biden invited Julia Louis-Dreyfus to visit the White House, where the fictional and non-fictional vice presidents had lunch.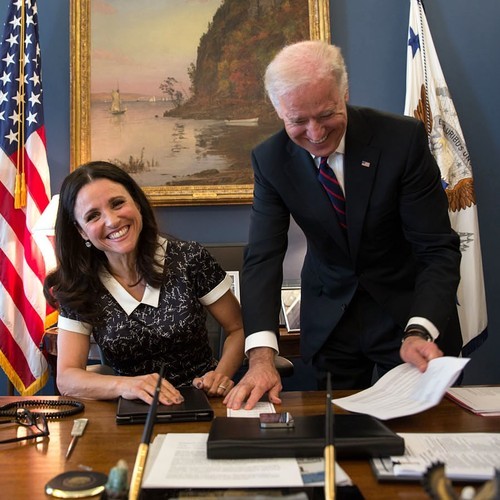 Much as I love Selina Meyer, she is, in my opinion, only the second-best fictional politician Biden has met in recent months. Last year, he also shook hands with Parks & Recreation's Leslie Knope for the episode "Leslie vs. April." For more details on what's happening to the photo above, listen to the Being Biden installment here.
The Office has had some pretty great guest stars in its time, and as the show heads toward the end it's paying tribute to some of the best with a web series called The Office Farewells. In the first installment, produced by John Krasinski, Will Ferrell looks back at his run as Deangelo Vickers.
Keep an eye out for more on NBC.com. The Office finale airs May 16. [EW]
The first trailer for Dexter Season 8 didn't really tell us anything about the upcoming episodes, but now we have a first peek at some actual footage thanks to a Showtime promo for their summer lineup (which also includes Ray Donovan). Dex doesn't seem too broken up about the events of last season, but Deb... isn't taking it so well. Check it out:
Dexter's final season premiere airs at 9 PM on June 30, followed by the series premiere of Ray Donovan at 10. [via EW, Dread Central]