'The Lone Ranger' Unveils Three More Character Posters And A New TV Spot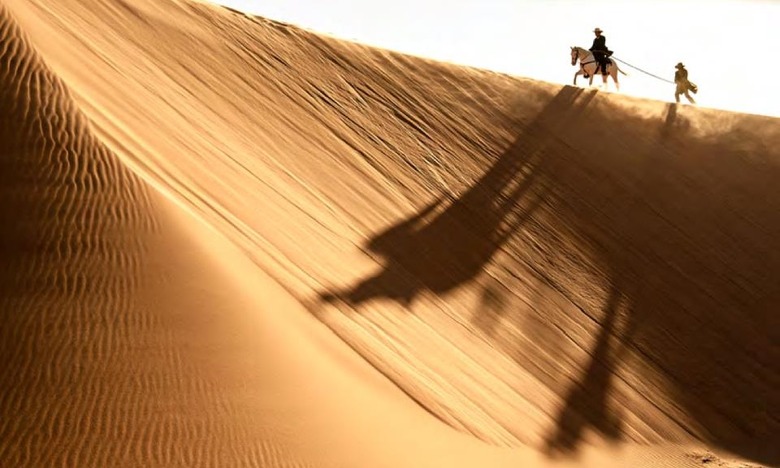 The first two character posters for The Lone Ranger highlighted two figures we already know pretty well — the Lone Ranger (Armie Hammer) and Tonto (Johnny Depp) — but now the marketing team has moved on to some other folks we're not quite so familiar with.
Helena Bonham Carter's Red, Ruth Wilson's Rebecca Reid, and William Fichtner's Butch Cavendish each get a turn in the spotlight, along with a pithy description explaining more about their characters. And it's a good thing, too, since they don't get much to do in the latest TV spot. Hit the jump for the new posters and video.
Meet Red Harrington. The dramatically coiffed, straight-talking, ivory-legged proprietor of a mobile establishment of lavish entertainments.
Meet Rebecca Reid. She's made for finer things, yet possesses the grit and independence of a frontierswoman. Her spirit is caught between two men: her husband Dan, and his younger brother, John.
Meet Butch Cavendish. A ruthless outlaw whose terribly scarred face is a perfect reflection of the bottomless pit that passes for his soul.
I don't have a problem with Wilson or her character per se, but is it just me or does Rebecca seem like she's from a totally different film? Tonto, Red, and Butch all seem to occupy a colorful Western fantasy with larger-than-life characters. John (the Ranger) is a bit more straitlaced, but we've seen that he gets up to some wild adventures too. But Rebecca, here and in the trailers, appears to have stepped out of another, more serious Western drama.
Not that that stops her from getting kidnapped, no doubt for reasons that are connected to the Lone Ranger's lone ranging. See Wilson don her best terrified expression in the TV spot below. (via The Playlist)
The promo is heavy on action and light on substance, but hey, sometimes that's just what you want in a movie. Also starring Barry Pepper, Tom Wilkinson, James Frain, and James Badge Dale, The Lone Ranger premieres July 3.
From producer Jerry Bruckheimer and director Gore Verbinski, the filmmaking team behind the blockbuster "Pirates of the Caribbean" franchise, comes Disney/Jerry Bruckheimer Films' "The Lone Ranger," a thrilling adventure infused with action and humor, in which the famed masked hero is brought to life through new eyes. Native American spirit warrior Tonto (Johnny Depp) recounts the untold tales that transformed John Reid (Armie Hammer), a man of the law, into a legend of justice–taking the audience on a runaway train of epic surprises and humorous friction as the two unlikely heroes must learn to work together and fight against greed and corruption.