The Everdeen Sisters Reunite In New 'The Hunger Games: Catching Fire' Photos

We've seen a few photos from The Hunger Games: Catching Fire as we slowly approach the film's November release, and we'll soon get a look at new footage when a trailer premieres on April 14. But in the meantime here are a couple extra shots that depict Katniss Everdeen (Jennifer Lawrence) and a tender moment between the heroine and her younger sister Primrose (Willow Shields).
CLick the header image above for a bigger version, and hit the jump for the other new pic.
Both images are via the film's Facebook page. More shots will be unveiled via the site TheHungerGamesExplorer.com before the trailer debut this Sunday during the MTV Movie Awards.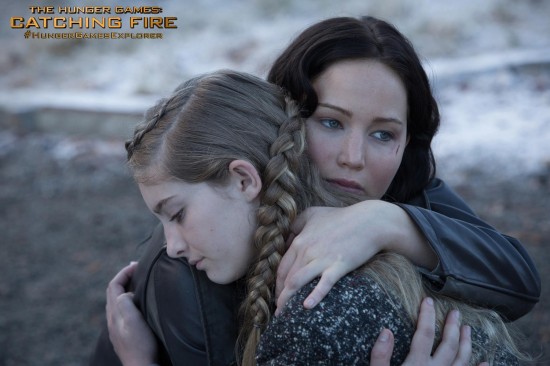 The Hunger Games: Catching Fire opens on November 22. The cast also includes Sam Claflin, Elizabeth Banks, Woody Harrelson, Donald Sutherland, Philip Seymour Hoffman, Jena Malone, Jeffrey Wright and Amanda Plummer.
THE HUNGER GAMES: CATCHING FIRE begins as Katniss Everdeen has returned home safe after winning the 74th Annual Hunger Games along with fellow tribute Peeta Mellark. Winning means that they must turn around and leave their family and close friends, embarking on a "Victor's Tour" of the districts. Along the way Katniss senses that a rebellion is simmering, but the Capitol is still very much in control as President Snow prepares the 75th Annual Hunger Games (The Quarter Quell) – a competition that could change Panem forever.