3D Box Office Projected To Decline In 2013, First Drop Since 2009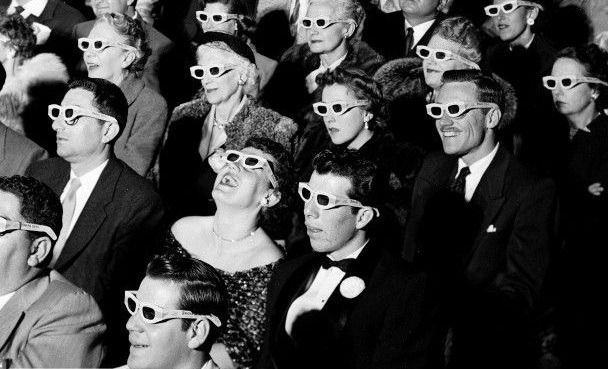 3D has become such a ubiquitous part of the moviegoing experience that it's almost funny to remember how novel it felt when James Cameron used it for Avatar in 2009. These days, it's almost tougher to find a four-quadrant blockbuster that isn't in 3D, and even old hits are getting converted for theatrical re-releases. And it's not just comic book movies and sci-fi adventures getting the treatment, either, as Ang Lee's Life of Pi and Baz Luhrmann's The Great Gatsby show.
But no trend can grow forever, and if 3D isn't in decline yet, exactly, it's at least headed for a plateau. A report by Fitch Ratings indicates that 3D box office figures are projected to drop in 2013, for the first time since 3D blew up in 2009.
But even as overall box office went up, 3D's contribution to the total in 2012 remained flat from the year before. As the initial excitement of 3D wears off, Fitch finds, audiences are getting tired of paying premium prices for what used to be an affordable pastime. "Going to the movies remains one of the lower-cost forms of entertainment," Fitch's study says. "However, increased pricing, particularly on 3-D films, may erode this perception over time."
Also not helping matters is the fact that home entertainment options are getting better and better. The window between a movie's theatrical debut and its home release is gradually shrinking — from an average of 5.5 months in 2000 to four months today — and studios have been trying to pare it down further still. A couple of years ago, Fox tried to test the waters with an early (three weeks after theatrical) VOD release for Tower Heist before exhibitor boycotts put an end to that plan. And increasingly, indie films like Bachelorette are finding success on VOD before they even land in theaters.
None of this indicates that 3D is on the verge of extinction. Indeed, if companies like Dolby have their way, it'll be soon more pervasive than ever as 3D television sets become commonplace in the living room. But studios and theaters may have to rethink how and when they employ 3D, since the technology alone is no longer enough to get butts in seats. That might not be such a bad thing. As the study notes, consumers losing interest in 3D are shifting their focus back to the "overall quality" of the film. And what consumers want, Hollywood is always eager to deliver.
[Source: The Wrap]