Glen Mazzara To Write 'Shining' Prequel Called 'The Overlook Hotel'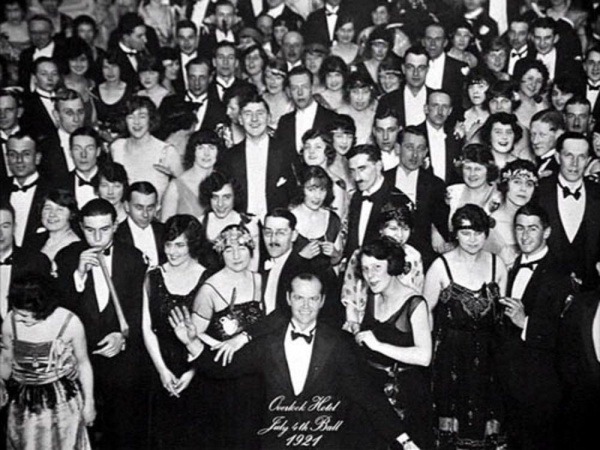 The Shining has had quite the resurgence in the past few months. Rodney Ascher's Room 237 is certainly one factor. Another, bigger motivator is Stephen King himself, who is currently working on a Shining sequel novel called Doctor Sleep. Warner Bros., which owns the rights to the Stanley Kubrick film, surely sees this as a perfect time to dust off last year's idea for a prequel to the Kubrick film, giving it a title and going out to a big time writer.
The proposed prequel is called The Overlook Hotel, and Glen Mazzara, who was the showrunner on The Walking Dead for the last two years, is in talks to write it.
Deadline first reported the news of the deal. The film will be produced by Laeta Kalogridis (Shutter Island) and Bradley Fischer (Shutter Island and Zodiac producer) and James Vanderbilt (The Amazing Spider-Man, Zodiac). Of note is this tweet from the Hollywood Reporter: "Glen Mazzara's dealmaking for the Shining prequel is in sensitive territory so there's a chance it may not make."
When this story was first reported, it seemed like that production team was tasked with coming up with a solid pitch before going out to writers. With the hiring of Mazzara, it seems likely they've come up with an idea Warner Bros. likes.
What could that be? At this point we don't know. Anyone familiar with Kubrick's film or King's novel knows the Overlook has a long history of terrible incidents. The safe money, though, would be something centering on Delbert Grady's brutal massacre of his family.
But do we really need to know more about that? Or about the woman in Room 237, or why Jack Torrance was at the Overlook in the 1920s? Of course not, but you can be sure that last part will be in the film.
As for Mazzara, he's obviously a solid talent with an affinity for genre so his inclusion is a small ray of light on this dark idea. What do you think?
Also, Stephen King responded to this film a few months ago in an interview with Entertainment Weekly. Here's the quote:
Q: There has recently been talk of a movie prequel to The Shining. It's based on material cut from your novel, about the early history of the Overlook. Warner Bros, which made Kubrick's film, has been exploring whether there's another movie in it. How do you feel about that?
A: There's a real question about whether or not they have the rights to 'Before the Play,' which was the prologue cut from the book — because the epilogue to the book was called 'After the Play.' So they were bookends, and there was really scary stuff in that prologue that wouldn't make a bad movie. Am I eager to see that happen? No I am not. And there's some real question about what rights Warner Bros. does still have. The Shining is such an old book now that the copyright comes back to me. Arguably, the film rights lapse — so we'll see. We're looking into that. I'm not saying I would put a stop to the project, because I'm sort of a nice guy. When I was a kid, my mother said, 'Stephen if you were a girl, you'd always be pregnant.' I have a tendency to let people develop things. I'm always curious to see what will happen. But you know what? I would be just as happy if it didn't happen.