'Now You See Me' Trailer #2: Morgan Freeman Invites You To Look Closer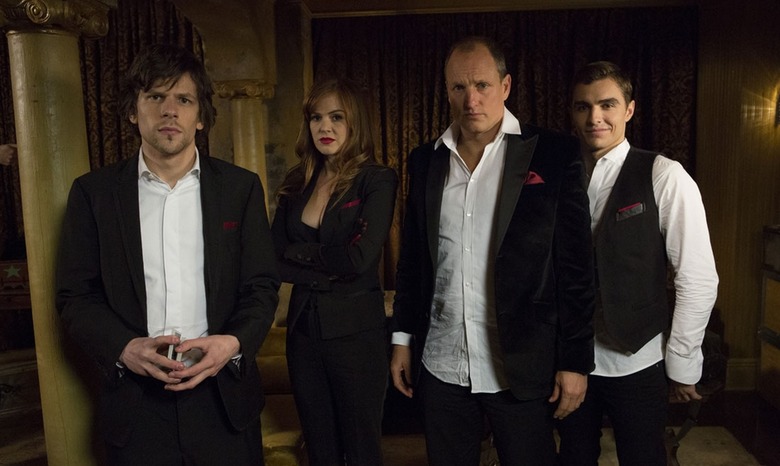 This year is turning out to be a big one for magicians. Last month, Steve Carell and Jim Carrey duked it out as battling Vegas showmen in The Incredible Burt Wonderstone, and next month our favorite non-Alliance illusionist Gob Bluth returns for the fourth season of Arrested Development. Then, just a few days after that, Louis Leterrier's Now You See Me will demonstrate what happens when magicians apply their special skills to criminal ends.
Jesse Eisenberg, Woody Harrelson, Isla Fisher, and Dave Franco star the Four Horsemen, a magic supergroup that robs banks to line the pockets of their fans, while Mark Ruffalo and Mélanie Laurent play the agents trying to take them down. Michael Caine and Morgan Freeman also star. Watch the new trailer after the jump.
There are some pretty dazzling shots in the trailer, and narration by Freeman is always welcome. But the video also highlights one major pitfall of portraying magic on the big screen: All of these tricks look much less impressive when they're obviously enhanced by careful editing and expensive CG. The actors reportedly spent a ton of time rehearsing their moves down, so it'd be a shame if all that work was obscured by overzealous post-production.
Fortunately, the movie has lots of other stuff going for it, including an intriguing premise and an absolutely top-notch cast. I could watch Ruffalo and Eisenberg snipe at each other for hours, and I'd happily pay for an entire movie about Caine and Freeman dancing around each other. Now You See Me probably won't turn out to be anything groundbreaking, but it could potentially serve up some very good times. The film lands in theaters May 31.