Learn How The 'Jurassic Park' Dinos Were Built And Where They Got Their Voices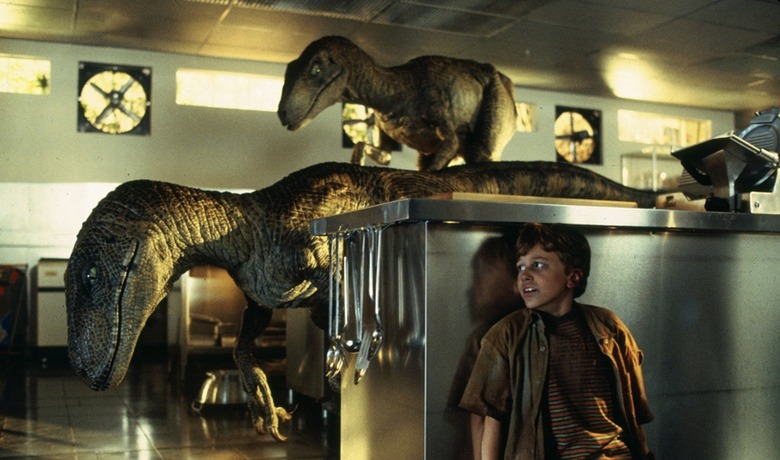 Twenty years later after its original release, it's still tough to top Steven Spielberg's Jurassic Park for believable movie dinosaurs. While we'll never know for certain how close the effects wizards actually came to replicating the prehistoric creatures, everything about their appearances in the film, from the way cock their heads to the way they hiss at their prey, feels uncannily lifelike.
That movie magic is all the more impressive considering how far special effects have advanced since Jurassic Park first hit theaters. Unlike so many other sci-fi classics of the '80s and '90s, Jurassic Park holds up gloriously well. Find out how sound designer Gary Rydstrom and the artists and engineers of Stan Winston Studio pulled it off after the jump.
[via Gizmodo]
This one examines the Dilophosaurus, who in the movie brings Nedry to a gruesome end.
But as great as they look, none of these creatures would be complete without their growls, calls, and hisses. In this snippet from a behind-the-scenes featurette, Rydstrom talks a little bit about how he created the animals' unique noises. Mostly, they're combinations of other, less terrifying beasts.
[via Unique Daily]
While that video keeps things pretty vague, Rydstrom confessed in a more recent interview that he drew from some not-so-family-friendly situations: "If people knew where the sounds in Jurassic Park came from, it'd be rated R!" For example, "when the raptors bark at each other to communicate, it's a tortoise having sex," he revealed. Similarly, the Gallimimus' terrified squeal was borrowed from a female horse in heat.
Not all of the dino calls have such smutty origins, of course. One of the most unexpected sources is Rydstrom's Jack Russell terrier Buster, who provides the noises that T-Rex makes when it plays with its food. "Every day I would see my dog playing with the rope toy and doing exactly that, pretending like he's killing his prey," he said. The dino's fearsome roar, too, comes from something smaller than you might expect. "The key element of the T. rex roar is not a full-grown elephant but a baby elephant," he explained. Head to Vulture to read more.