Patton Oswalt Commissions 'Star Wars' Action Figures Inspired By Russ Meyer Movies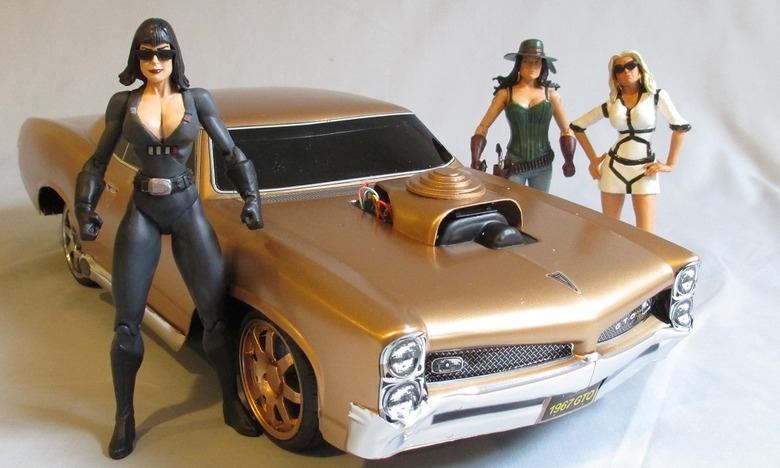 There are more variations of official and unofficial Star Wars action figures than anyone could possibly count, but even within that vast sea of paint and plastic, this inspired reimagining of the cast stands out.
On a commission from comedian / actor / geek guru Patton Oswalt, artist Jamie Follis created a line of Star Wars toys based on your favorite characters — that is, if they'd been created by Russ Meyer instead of George Lucas. And given Meyer's tastes, that means Luke, Han, Vader, and others been transformed into busty babes, while Leia stands alone as a thick piece of beefcake. Check 'em out after the jump.
In addition to this series, titled "Faster, Empire! Kill! Kill!", Follis has also done customized sets of the Star Wars gang in steampunk, noir, samurai, and World War II styles. He works outside the galaxy far far away, too — he's created figures based on Dune, Hellboy, Brazil, The Venture Bros., and more.
As Oswalt explains on his own blog, he's long been a fan of Follis' work, and even looked to him for inspiration when he played Matt Freehauf in Young Adult. In fact, it was Oswalt who turned the late, great Roger Ebert onto Follis. And though Ebert passed away before he got a chance to see these particular figures, Oswalt dedicates the commissioned line to him.
So this set's for you, Roger. More evidence, from just one of probably a hundred thousand bored suburban kids you led out of the bland cineplexes and into rep theatres and obscure video stores and adventurous film festivals. There was a network of parallels, connections and coincidences in that movie universe you kept in your head. I'd like to think this interpretation of a tiny sliver of it would make you smile. Or at least grip your heart, like a velvet glove cast in iron.