One More 'Oblivion' Featurette Focuses On Remote Shooting Logistics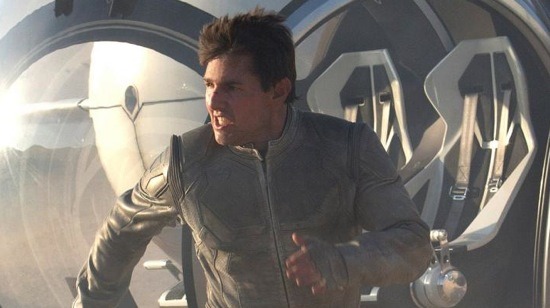 Universal is releasing a steady flow of featurettes about the making of the Tom Cruise film Oblivion, many of which focus on the unique aspects of crafting a future version of Earth. For the new one, as with some of the other behind the scenes looks at the film, there's a focus here on the degree to which the film avoided using CG to create the landscapes and scenery that we see in many scenes.
Last week we saw a featurette for Oblivion that followed the crew of Joseph Kosinski's film during the first day of shooting in Iceland. This week there's another that catches up with the production after it has been in the country for a while, and which really focuses on the logistics of shooting in a remote locale. Vague shades of the crafting of Middle-Earth here. Not that Peter Jackson was by any means the first director to take a crew off the grid, but he has set the tone of late as far as documenting the process. Kosinki's crew seems to be doing good work, however, even with a far more constrained cast.
Oblivion opens on April 19th.
Tom Cruise stars in Oblivion, an original and groundbreaking cinematic event from the director of TRON: Legacy and the producer of Rise of the Planet of the Apes. On a spectacular future Earth that has evolved beyond recognition, one man's confrontation with the past will lead him on a journey of redemption and discovery as he battles to save mankind.
Jack Harper (Cruise) is one of the last few drone repairmen stationed on Earth. Part of a massive operation to extract vital resources after decades of war with a terrifying threat known as the Scavs, Jack's mission is nearly complete. Living and patrolling the breathtaking skies from thousands of feet above, his soaring existence is brought crashing down when he rescues a beautiful stranger from a downed spacecraft. Her arrival triggers a chain of events that forces him to question everything he knows and puts the fate of humanity in his hands.