TV Bits: 'Mad Men', 'Vikings', 'Bates Motel', 'Girls', 'Happy Endings', 'Jonathan Strange', 'The Bridge'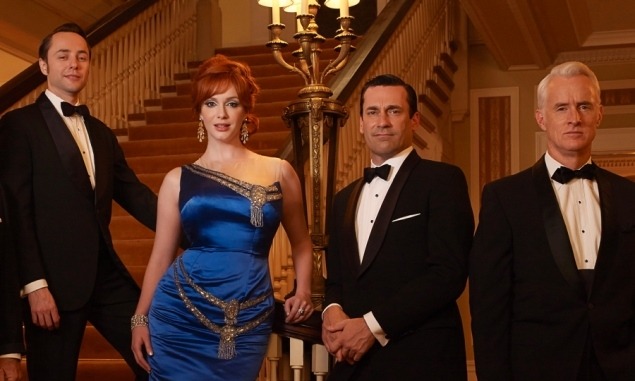 Whether you're scrambling to catch up on the Mad Men Season 6 premiere or you just want to experience it again, AMC's got the entire episode online right now. Also after the jump:
Vikings and Bates Motel get renewed
Paul Reuben heads to Wonderland
HBO's Girls loses one of its boys
Will USA pick up Happy Endings?
The Kitten Bowl is coming in 2014
Jonathan Strange is coming to the BBC
Peter Berg will direct HBO's The Leftovers
See a trailer for Christopher Guest's Family Tree
FX reveals four creepy promos for The Bridge
Elsewhere, A&E is also pretty pumped about its new series, Bates Motel. The cable channel has picked up the Psycho prequel for a second season, which will consist of ten episodes. The drama's current first season is expected to end this spring. [Deadline]
Pee-Wee Herman is set to explore Wonderland. Paul Reubens has signed on to voice the CG White Rabbit in ABC's Once Upon a Time in Wonderland, the upcoming spinoff from Once Upon a Time creators Eddy Kitsis and Adam Horowitz.
Set in pre-curse Wonderland, the fantasy will center on Alice (Sophie Lowe), a kind-hearted young woman who's lived a rough life. Peter Gadiot, Michael Socha, and Emma Rigby also star. [Deadline]
Despite its title, HBO's Girls has features almost as many great guy characters as it does ladies. But the series will be one fella short next year. Christopher Abbott, who plays Charlie, has abruptly dropped out after disagreements with creator and star Lena Dunham about the direction of his character.
"[Chris] is grateful for the experience of collaborating with Lena, Judd [Apatow], and the entire Girls cast and crew, but right now he's working on numerous other projects and has decided not to return to the show," his rep confirmed. The HBO half-hour is currently starting work on its Charlie-free third season, to air in 2014. [NY Post]
Even ABC's admitted that Happy Endings is in trouble, disingenuously pleading with fans to "save the show." If the viewers "fail," though, USA could prove a solid backup plan.
Sony TV, which produces the show, has reportedly reached out to the cable channel about the possibility of picking up the series for its fourth season if ABC decides to pass. The jump would be similar to the one recently made by Cougar Town, another cult comedy that struggled at ABC before making the successful leap to TBS. [Deadline]
For the past several years, football-hating dog lovers have had the Puppy Bowl to turn to during the Super Bowl while cat lovers have had to contend themselves with just the Kitty Half-Time Show. In 2014, though, that'll change.
The Hallmark Channel has announced that they'll show a Kitten Bowl opposite the big game next year, featuring a cat agility contest. "Lures, like laser pointers, and toys on a string will be used to get the kittens through the course, but food will not [be] allowed," the press release explains. [Vulture]
Susanna Clarke's bestselling novel Jonathan Strange & Mr. Norrell is officially headed to the small screen. The BBC and BBC America will team for a seven-part miniseries based on the fantasy novel, about two rival magicians in 19th century Britain. The series is expected to air during BBC America's "Supernatural Saturday" block, which also features Doctor Who.Peter Harness (Wallander) is writing the adaptation, with Toby Haynes (Sherlock) set to direct. No stars have been announced just yet, so feel free to fantasy-cast in the comments. [NYT]
In other literary adaptation news, Damon Lindelof's adaptation of Tom Perrotta's The Leftovers has found a director. Peter Berg has just signed on for the HBO pilot, which shoots in New York this June.
The plot unfolds in the wake of a Rapture-like event, as those left standing struggle to rebuild their lives. Should HBO pick it up to series, The Leftovers will likely hit screens in 2014. [Collider]
HBO has revealed a second trailer for Family Tree, Christopher Guest's upcoming comedy for HBO. Chris O'Dowd stars as an aimless young man who's inspired by the death of a great aunt to explore his roots. Not coincidentally, it turns out that many of his relatives look like Christopher Guest regulars.
Family Tree debuts in May.
FX has set a chilling tone for The Bridge with four 16-second teaser trailers. Well, ten seconds if you don't count the title. But hey, add them all up and you have the equivalent of one normal-sized teaser!
What they lack in information, they make up for in impact. These snippets are haunting, even if you're not exactly sure why. The buzzy new drama follows two detectives (Demián Bichir and Diane Kruger) from opposite sides of the U.S.-Mexico border who team to hunt a serial killer. Look for it to premiere sometime this summer. [via THR]
The Internet's a dangerous place right now for Mad Men fans who've yet to catch the Season 6 premiere but want to avoid getting spoiled. Get yourself to safety by watching the two-hour episode, which AMC has posted in its entirety online.
Mad Men continues next Sunday on AMC.