First Look: '300: Rise Of An Empire'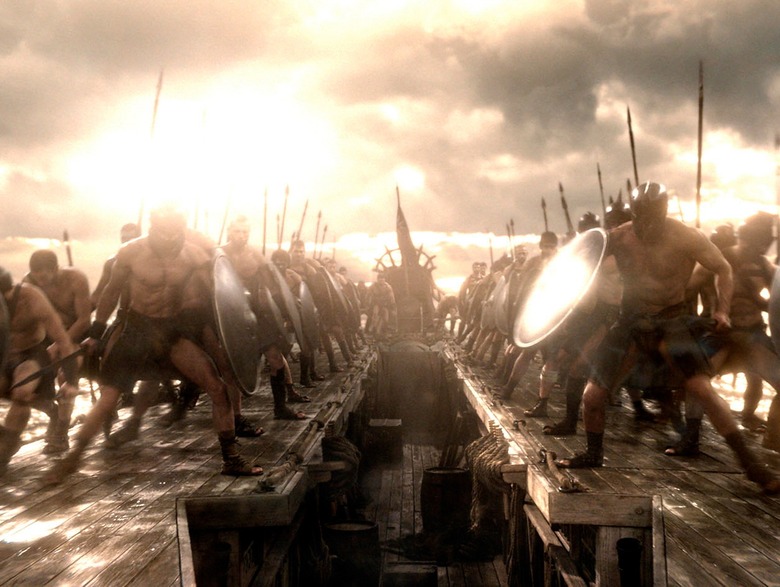 Director Zack Snyder's adaptation of Frank Miller's graphic novel 300 turned into a surprise hit in 2006, and ever since then there has been speculation about the sequel, or prequel. Miller quickly went to work on a related graphic novel, and several years ago Snyder and his co-writer Kurt Johnstad got to work on a script.
It took some time, but director Noam Murro was eventually set to direct what became called 300: Rise of an Empire, with Sullivan Stapleton set to star as Greek general Themistokles in a story that parallels the original 300.
That image above is the first look at a battle from the new film, and below we've got a shot of Stapleton in character. (Hint: he looks like he belongs in 300.)
USA Today has these images, and the description that the film features an "aquatic setting" that "allows for a completely new dynamic." Clearly, based on these images, this film is related to 300 — the link is obviously something beyond just the imitation of 300 that became common in the past half-dozen years.
Murro tells the paper that this film is a much bigger undertaking than the first.
[Rise of an Empire] happens over time in many different locations. The opportunities for the six distinct battles are even greater with different locations and tactics... The few against the many is still here. It's hundreds vs. hundreds of thousands. It's about taking on the mightiest power of all with wisdom and tactics.
The film also features Eva Green as Artemesia, descried as "the vengeful commander of the Persian navy." (Also once part of the title of the film — this movie was first called Xerxes, then Battle of Artemesia.) She's the military leader just under Xerxes (played by a returning Rodrigo Santoro).
Below is a shot of Stapleton as he appears in the film. 300: Rise of an Empire is set for release on August 2.