'Pieta' Trailer And Mondo Poster: Drafthouse Teams With Korean Auteur Kim Ki-Duk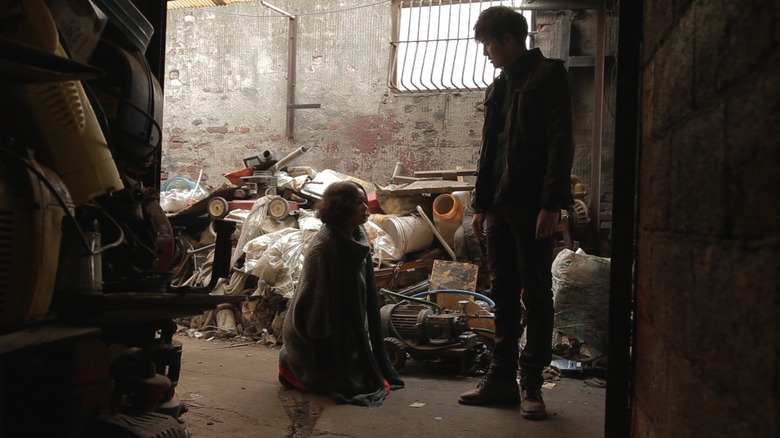 Drafthouse Films' commitment to unique, challenging cinema continues this year with Pieta, from controversial South Korean auteur Kim Ki-duk. Lee Jung-jin stars as a merciless loan shark whose world is upended by the unexpected appearance of a woman (Cho Min-soo) who claims to be his long-lost mother.
The film earned some high praise on the festival circuit last year, and in advance of its VOD release next week a new trailer has hit the web. And this being a Drafthouse title, there's also a gorgeous new Mondo poster to go with it. Check both of them out after the jump.
Watch the YouTube embed below, or click over to iTunes for high def.
The trailer isn't too graphic, but it's clear the movie itself is. I cringed every time the whirring machine showed up, even though the video never actually shows it used on a person. Indeed, critics have called it "sickeningly violent," with depictions of "brutal violence, rape, animal slaughter and the ingestion of disgusting objects."
But it's also been praised for its "a savage grace," as well as its ability to inflict "unflinching emotional devastation." Not all of the reviews have been totally positive — at least one critic found it "disappointingly conventional" — but overall it sounds like an intriguingly nuanced twist on what might otherwise be a standard revenge thriller.
The one-sheet, by Jay Shaw, references the classic Michaelangelo masterpiece that gives the movie its title.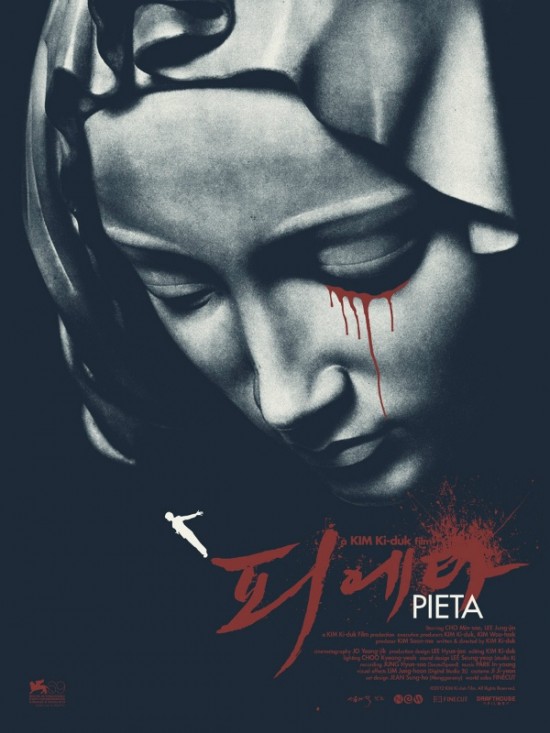 It's stark, elegant, and in its way, beautiful. If you dig it, 150 18"x24" limited edition prints will be available for purchase on the Drafthouse Films site starting April 12 — the same day as the film's VOD release. A limited theatrical opening follows on May 17.
Winner of the Golden Lion at the 2012 Venice Film Festival, Pieta is the acclaimed film from the celebrated and controversial Korean director Kim Ki-Duk (Bad Guy; Spring, Summer, Fall, Winter... And Spring; 3-Iron). In this intense and haunting story, a loan shark living an isolated and lonely existence uses brutality to threaten and collect paybacks from desperate borrowers for his moneylender boss. He proficiently and mercilessly collects the debts without regard to the pain he causes his countless victims. One day, a mysterious woman appears in front of him claiming to be his long-lost mother. After coldly rejecting her at first, he gradually accepts her in his life and decides to quit his cruel job and seek a decent, redemptive life. However, he soon discovers a dark secret stemming from his past and realizes it may be too late to escape the horrific consequences already set in motion from his previous life.