Johnny Depp And Armie Hammer Get 'The Lone Ranger' Character Posters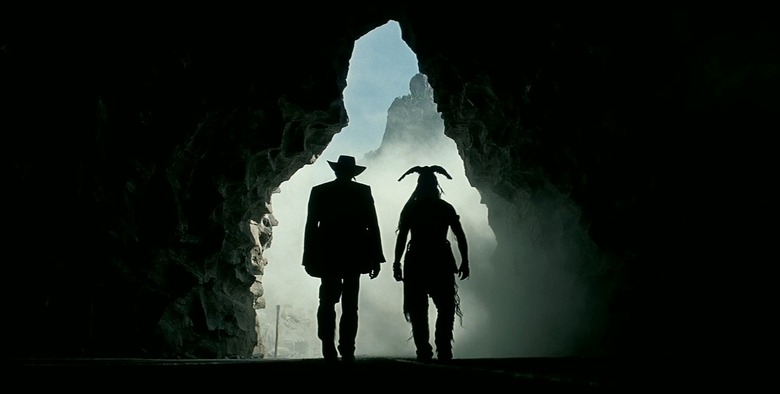 Odds are you're already plenty familiar with the Lone Ranger and Tonto, who've been kicking around the pop cultural landscape for the better part of a century. And you probably also have a fairly good idea of what Gore Verbinski's done with the characters in the upcoming The Lone Ranger film, thanks to all the promos and stills we've seen so far.
But in case you want to get even more up close and personal with the iconic Western duo, Disney has just released a pair of character posters featuring Johnny Depp as the off-kilter Tonto and Armie Hammer as the mysterious Ranger. Check them out after the jump.
[via Coming Soon]
There isn't much to say about these posters. Hammer looks appropriately chisel-jawed and heroic, and Depp looks right at home in that white makeup he loves so well. There are some totally unnecessary orange sparks floating around the lower edges of the portraits, because these days you can't promote an action movie without them. Basically, it's everything you'd expect from two Lone Ranger character posters, no more and no less.
Helena Bonham Carter, Ruth Wilson, William Fichtner, Barry Pepper, Tom Wilkinson, James Frain, and James Badge Dale also star, not that you'd really know it from the Tonto-centric marketing. The Lone Ranger hits July 3.
From producer Jerry Bruckheimer and director Gore Verbinski, the filmmaking team behind the blockbuster "Pirates of the Caribbean" franchise, comes Disney/Jerry Bruckheimer Films' "The Lone Ranger," a thrilling adventure infused with action and humor, in which the famed masked hero is brought to life through new eyes. Native American spirit warrior Tonto (Johnny Depp) recounts the untold tales that transformed John Reid (Armie Hammer), a man of the law, into a legend of justice–taking the audience on a runaway train of epic surprises and humorous friction as the two unlikely heroes must learn to work together and fight against greed and corruption.