TV Trailers: Stephen King's 'Under The Dome' And 'Dexter' Season 8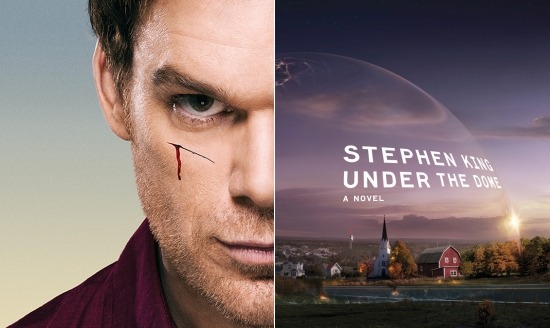 Pop culture aficionados generally associate the summer season with big cinematic blockbusters, but this year there'll be tons of exciting offerings on the small screen as well. CBS' Steven Spielberg-produced Stephen King adaptation Under the Dome hits in late June, with the eighth and last season of Dexter kicking off on Showtime just a few days later. Watch the latest trailers for both after the jump.
With its sprawling cast of characters isolated by mysterious sci-fi circumstances, Under the Dome has a bit of a Lost vibe going. I'm sure that's no accident, as countless dramas since then have tried to emulate the iconic series over the past few years. Most have failed, but if this one succeeds it has the potential to be riveting television. Under the Dome premieres Monday, June 24 at 10 PM on CBS.
Meanwhile, the trailer for Dexter shows no footage at all. Still, it's a little something to whet your appetite for the show's last stretch.
Dexter's been at risk for getting caught through the entirety of the series' run, but so far he's managed to save his skin one way or another. He pretty much had to, because having him captured or killed would've meant the end of a very popular drama. But he came closer than ever to exposure in Season 7, and with the show coming to an end after Season 8, there's no guarantee he'll survive these next few episodes. Find out what happens when Dexter returns to Showtime Sunday, June 30 at 9 PM.