'Behind The Candelabra' Trailer: Michael Douglas Preens And Seduces As Liberace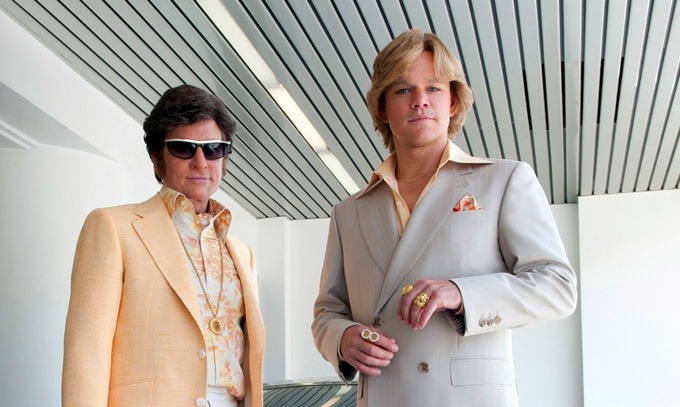 Steven Soderbergh's retirement has turned out to be more of a transition. While he's done with theatrical features for now, he's as active as ever on the small screen. Just last week, he was talking up his plans to adapt John Barth's The Sot-Weed Factor into a 12-hour miniseries.
Perfectly positioned to mark that switch from the big screen to the small one is Behind the Candelabra, an HBO film about the rather bizarre romance between the famed pianist (played with flirty, flamboyant charm by Michael Douglas) and his much younger lover Scott Thorson (a wide-eyed Matt Damon). The first full-length trailer has finally hit the web, and you can check it out after the jump.
If nothing else, the twisted love story at the center of Behind the Candelabra should make for an interesting variation on the standard musical biopic formula. There's some really weird stuff here, even by celebrity romance standards. It's not often that a guy gets surgery to look like a younger version of his lover. The fact that this is based in truth — Soderbergh's film is an adaptation of Thorson's tell-all memoir of the same title — only makes it more outrageous.
But Behind the Candelabra looks all the more fascinating because it resists the temptation to go too over-the-top with the tale. Soderbergh, Douglas, and Damon are obviously having plenty of fun with the absurdity of it all, but they imbue even the strangest of these characters' actions with recognizably human motivations. Said motivations are dressed up in rhinestones, dolled up with rouge, and doused with champagne, sure, but they're there.
Behind the Candelabra premieres on HBO Sunday, May 26 at 9:00 PM. If you still have any energy left at all after bingeing on 15 straight episodes of Arrested Development, it seems worth a watch. If not, I'm sure HBO will be rerunning it countless times in the months to come.