Penn & Teller Developing New TV Show And Finishing New Movie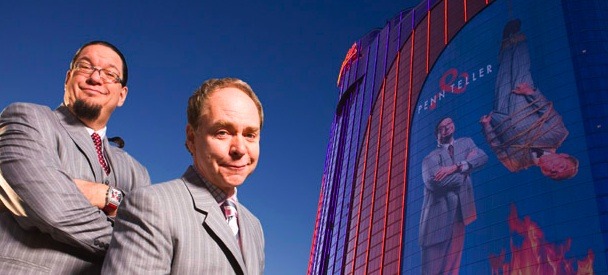 Penn and Teller's unique brand of magic feels like it's been around forever. Over decades, it has permeated many levels of popular culture, through their successful Showtime show Bullshit, their long running Las Vegas stage act, appearances on The Celebrity Apprentice or cult movies from the Eighties. The duo hopes to continue that notoriety as they prepare another multimedia onslaught in the coming months.
New plans include a new TV show called Smoke and Mirrors and a movie focused on the Dutch painter Johannes Vermeer. The former is currently in development while the latter is in post-production, with an eye on the coming festival season. 
Variety first reported on the projects. Penn said (of course, because Teller is the quiet one) the following about the film:
It's about Vermeer, and it's about an American scientist and inventor who has done some amazing research and experimentation.
That's a pretty odd description for a film from a pair of famous illusionists but you can be sure it'll be revealing and interesting. Vermeer is best known for the painting "Girl With A Pearl Earring," which inspired a 2003 film starring Scarlett Johansson. The artist's use of light has also influenced many cinematographers and more than a few film directors. Apparently, Penn and Teller have already shot the film and it's being edited.
The TV show, Smoke and Mirrors, is said to have its DNA in Bullshit, where Penn and Teller regularly disproved common misconceptions. This one will apparently be more personal, while expressing a similar skepticism. The show is "like spending an evening with Penn and Teller in their living room," Variety says.
Also of note the title, "Smoke and Mirrors," was the name of a never-produced Sega CD video game starring Penn and Teller. The primary goal of the game was to trick any friends who watched you playing it. The Wikipedia entry is fascinating and, maybe, provides an idea of what this new show will hold.