See Concept Art For Never-Made 1997 'Hulk' And Billy Crudup As Ang Lee's 'Hulk'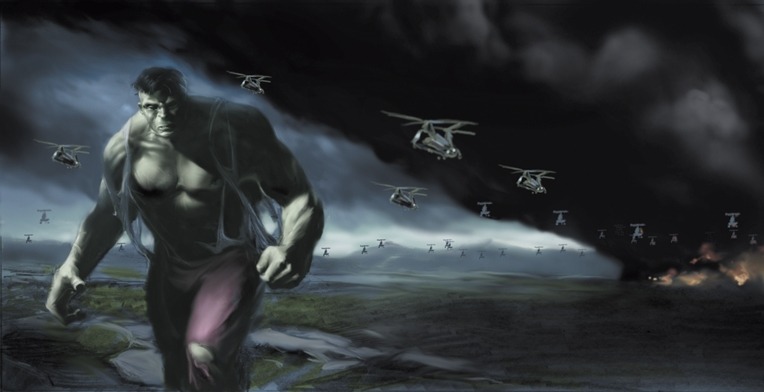 The Hulk has been notoriously tricky to get right on the big screen, but thanks to his enduring popularity as a character plenty of people have tried. One man, concept artist Benton Jew, has even made the attempt three times.
Jew first worked on bids for Jonathan Hensleigh's unmade 1997 Hulk film and Ang Lee's 2003 Hulk, before getting hired in 2007 as a storyboard artist on Louis Leterrier's The Incredible Hulk. The illustrator recently took to his blog to share his work from those experiences, including mock-ups of Lee's original choice Billy Crudup as Bruce Banner. Check 'em out after the jump!
Joe Johnston was attached to helm for a brief period. After he left, Hurd's husband Hensleigh (who'd also worked on the script) was set to make his feature directing debut. Jew and ILM submitted sketches showing what they thought the Hulk and the villains might look like.
Unfortunately (or fortunately, more likely), Universal got cold feet and pulled the plug on Hensleigh's version. But a few years later, Lee came aboard to try his hand at Hulk, and Jew and ILM once again put in a bid to work on the project.
Interestingly, at the point that they were putting the art together, Crudup was set for the lead. One of Jew's images show what a Crudup Hulk could've been. Another picture takes a more "neanderthalish" approach to the big green guy that Jew says was to Banner "what a kitten is to a lion."
When Marvel Studios decided to reboot the character a few years later, with Leterrier and Edward Norton, Jew came on as a storyboard artist. Though he says he worked mostly on scenes with Banner, not the Hulk, he shared a few pieces that do feature the character in his giant green state.
Jew's blog (via Comic Book Movie) has more of his work, both Hulk-related and not. Do you like his visions for the iconic superhero?