Watch The Full 'Hannibal' Pilot Online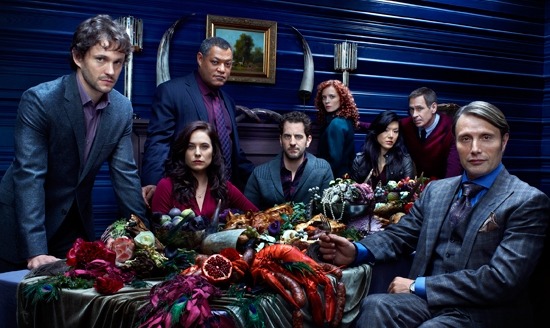 2013 has already seen the debut of multiple serial-killer TV series, including Fox's The Following and A&E's Bates Motel. Yet by all accounts NBC's Hannibal is the best of the bunch. The Silence of the Lambs prequel series has drawn raves from critics for Mads Mikkelsen and Hugh Dancy's performances as Hannibal Lecter and Will Graham, as well as for Bryan Fuller's eye for gorgeous, gory detail.
Unfortunately, all of those compliments haven't translated to very high ratings for the premiere. Which means there's a good chance, statistically speaking, that you didn't catch the show last night. Fortunately, NBC has now put the entire pilot episode online for you to enjoy at your leisure. Watch the full-length video after the jump.
I have to confess I didn't tune into the show last night, either — my DVR wouldn't let me, unless I cancelled new recordings of either Elementary or Archer. (Note to networks: There are other nights of the week besides Sunday and Thursday, you know.) Based on what I've heard about Hannibal, though, I plan to remedy that the first chance I get.
HitFix and AV Club, both of which saw the first five episodes of the thirteen-episode season, gave Hannibal an A-, while Variety singled out Mikkelsen's work as the notorious cannibal in their positive review. Vulture called Fuller's style "alarmingly" beautiful, which shouldn't come as much of a shocker considering that Fuller was also behind the stunning Pushing Daisies, Wonderfalls, and Dead Like Me.
But Hannibal could use a bit of a boost in viewership. Its first episode drew 20% fewer eyeballs than Awake did in the same timeslot last year, and that series lasted only thirteen episodes. On the bright side, at least it did better than February's Do No Harm, which was canned after just two episodes in that same slot. So if you like what you see above, tune in for the second episode next Thursday at 10:00 PM on NBC.
[Ratings info via Deadline]