Sequel Bits: 'Clerks III', 'Trainspotting 2', 'Despicable Me 2', 'Cloudy 2', 'The Smurfs 2', 'Star Trek'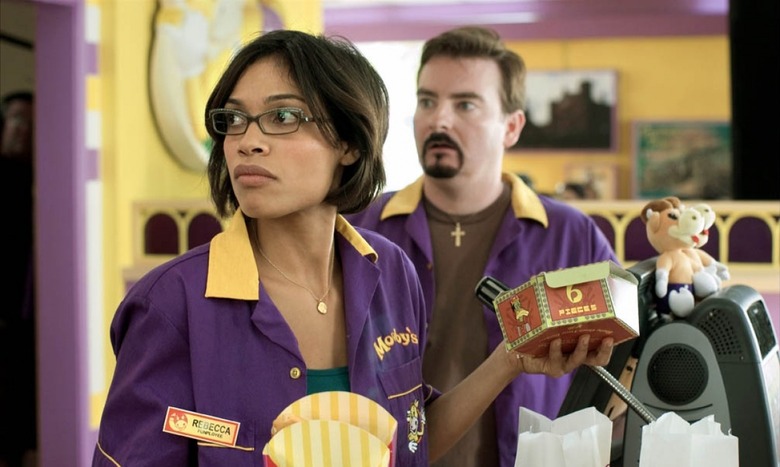 In case you were wondering, yes, Kevin Smith is still pretty sure Clerks III will be his best film ever. It's not clear whether Rosario Dawson totally agrees with that sentiment, but apparently she wants in too. Also after the jump:
Danny Boyle dishes on the Trainspotting sequel
Gru is an awkward parent in Despicable Me 2 clip
Terry Crews goofs around in a Cloudy 2 featurette
Before Midnight debuts an international poster
New poster reminds us of Global Smurfs Day
Get a peek at Keenser in Star Trek Into Darkness
Listen to a bit of the Star Trek Into Darkness score
Chris Pine was "scared" to play Captain Kirk
It's been a f***ing blast — just such a good time. The Elias/Randal stuff is fantastic. I'm very very proud of it. I talked about, you know, when I threw out the photo of the cover. I said, 'This is going to be my best film ever,' and some people were like, 'I bet you're f***ing sorry you said that.' I'm like, 'No.' I know the script, and again, so it's like, even if you don't agree, I said it, so I feel it, dick. [...] Having read it as I write it, I think it will be the best 'cause it really just encapsulates everything. There is a little piece of every movie I've ever made in this movie, and there's, like, tie-ins and crossovers and nothing egregious — like, 'Oh, there's Chasing Amy's Jason Lee,' or something like that.
Smith confirmed in a recent Reddit AMA session that he was on page 95 of the screenplay, "about 25 pages" away from the end. "Dante. Randal. Jay. Silent Bob. They all return, naturally. Elias. Becky. They're back as well. So is Veronica," he wrote.
Casting hasn't officially begun just yet, but when it does, Rosario Dawson (who played Becky in Clerks II) will be waiting by the phone.
He has not called me yet; I might start harassing him soon. I've already put it out there on Twitter-land because he Facebooked a photo of the script's title page. I love him like crazy, I love "Clerks" and I want to see Becky's baby and see what happens next. So put in a good word for me.
Clerks III will likely hit in 2014 or so. [The Playlist, Buzzfeed]Danny Boyle definitely won't direct Bond 24, but he does have another high-profile sequel in the works. The Brit filmmaker recently spoke, again about his plans to direct a sequel to Trainspotting, which will be loosely based on Irvine Welsh's follow-up novel Porno.
[T]he original movie is inspired by the original book, I wouldn't say it's a direct adaptation, and I think we'll bring the same idea to Porno. The vision comes from Irvine as a writer, and this gallery of characters, and then we live the screenwriter, John Hodge hopefully, with the freedom to explore that. And then we try to develop a script that's good enough to attract those actors to come back and do those characters again.
The idea is to get the original cast back on board, but Boyle acknowledged that he hadn't reached out to the stars yet. "We'll approach all the actors at the same time, in the same way. Because that was the way we did the original, and we'll try to do that as well with this." Trainspotting 2 (or Porno, or whatever the title winds up being), aims to shoot in 2016. [THR]
Being a supervillain surely has its advantages, but apparently it doesn't do much to help with little kids' awkward questions. In a new clip from Despicable Me 2, Agnes (voiced by Elsie Fisher) chats with Gru (voiced by Steve Carell) about the differences between boys and girls.
Gru's skills will probably prove much more handy in his battle against his nemesis, Eduardo (voiced by Al Pacino). We got a blurry first glimpse of the character last week, but this new image of Despicable Me 2 tie-in toys offers a slightly better look.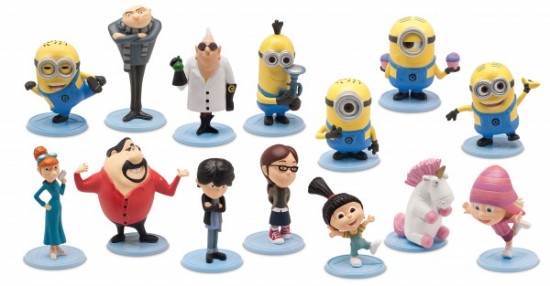 Despicable Me 2 hits July 3. [via Bleeding Cool]
Tough Terry Crews gets to flex his comedy muscles in a new featurette for Cloudy With a Chance of Meatballs 2. Donning a red silk robe, Crews presents some new footage, including peeks at the fluttery "Mosquitoast" and the elusive "Sasquash."
Crews plays cop Earl Devereaux in the film, replacing Mr. T. Cloudy With a Chance of Meatballs 2 lands September 27. [via MovieWeb]
By all accounts, it's best to go into Before Midnight with as little knowledge as possible about the plot. In that light, this new international poster for the movie is just about perfect. It shows nothing more than Celine (Julie Delpy) and Jesse (Ethan Hawke), looking older and wiser than we last left them.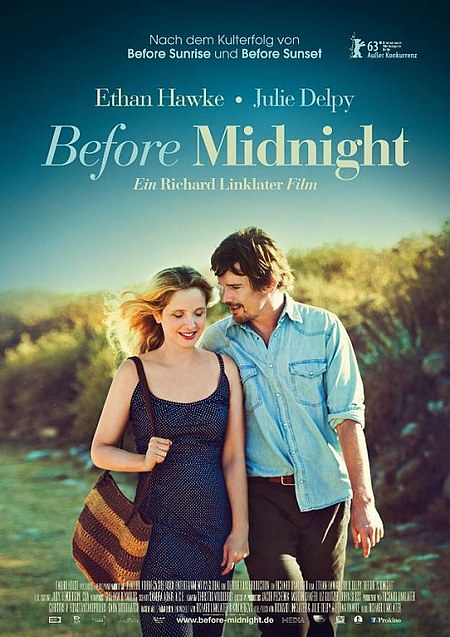 Before Midnight rolls into cinemas May 24. [via MovieWeb]
On a rather less exciting note, we also have a new poster for Global Smurfs Day on June 22, 2013. What is Global Smurfs Day, you ask? It's Sony's attempt to market The Smurfs 2 by encouraging fans around the world to dress up as the little blue creatures and set Guinness records for the "Largest Gathering of People Dressed as Smurfs Within a 24-hour Period — Multiple Venue."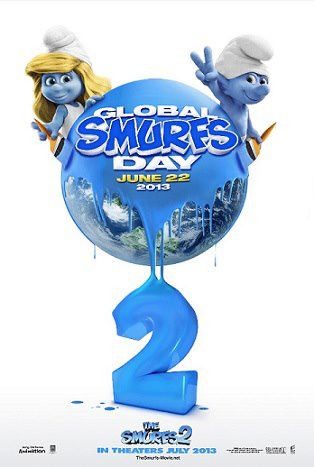 The Smurfs 2 hits about one month later, on July 31. [via IMP Awards]
Among the many familiar faces featured in Star Trek Into Darkness will be Keenser, Scotty's little alien buddy. A behind-the-scenes still from Empire offers our first look at the character (played by Deep Roy) in the sequel. In addition, the magazine has revealed another new still, this time of Spock (Zachary Quinto) and Uhura (Zoe Saldana).
[via Trek Movie]
The Star Trek franchise has tons of devout fans, but in an interview with Esquire, star Chris Pine revealed that he wasn't one of them — at first.
I wasn't a fan of Star Trek. It didn't excite me. All I wanted at that time was a part that I really connected to and when my agent said, 'Star Trek,' I said, 'No! Have you not been hearing anything I've said? Star Trek is the furthest thing from what I want to do.' Star Trek scared me a lot. It terrified me, really. Because of the scale, the responsibility, the fact that it was this iconic character. It was the bigger challenge. So I had to take it.
Fortunately for Trekkies everywhere, so far he seems more than up to that challenge. [via Trek Movie]
Now let's close out this Sequel Bits with a bit of end credits music, courtesy of Michael Giacchino. The Star Trek Into Darkness composer tweeted a few snippets of his score today.
Hear the rest of that score when Star Trek Into Darkness lands May 17. [via Trek Movie]