Guillermo Del Toro Would Love A 'Pacific Rim' And 'Godzilla' Crossover Film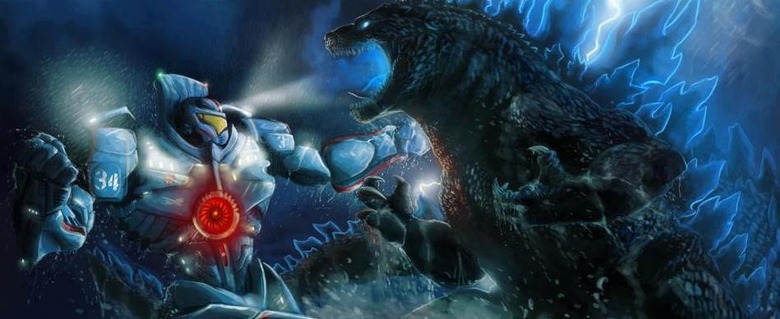 In the next two years, Legendary Pictures is releasing two films in which giant monsters lay waste to cities. First up is Guillermo Del Toro's Pacific Rim, out July 12. In it, the humans have built giant robots called Jaegers to battle giant alien monsters called Kaiju. Then, in 2014, the company will release a new version of the film that brought the very concept of the kaiju to global popularity: Gareth Edwards' Godzilla, which is now in production.
As more and more studios think about team-up films such as The Avengers and Justice League, the possibility of some kind of new monster crossover seems obvious. Especially since it would hold true to the film history of Godzilla. There are no immediate plans for anything like this, but, Guillermo Del Toro loves the idea. Read his quote below.
Del Toro spoke to Collider at WonderCon and here's what he had to say:
So far with the [Pacific Rim] sequel, what we're writing, what we're creating, is very different, so there are no plans. Hypothetically, I would love the fuck out of it. I would love to see a jaeger and Godzilla duke it out.  That would be too much for the human brain. But I don't think there are plans on that. I don't even know what direction they're taking Godzilla in. I know somewhat that it's grounded differently. Pacific Rim, my aspiration was, the color, the saturation of color, was almost an acid-drip version of the heavy-metal coloring that I loved when Richard Corben was working there, when [Jean-Claude] Forest was working there. Super bright, super saturated, the crazy color and aesthetic. And Godzilla is more realistic, somewhat. That's my thinking. That's what I've heard. I don't even know which way they're going.
Sounds like a geek pipe dream at the moment, especially since Godzilla is more grounded in reality than Pacific Rim. But, if Pacific Rim is a hit, and it's sequel is a hit, and Godzilla connects with audiences, who is to say, maybe, Legendary doesn't figure this out?
Image: Comic Book Movie