'Grown Ups 2' Trailer: Taylor Lautner Tries Intentional Comedy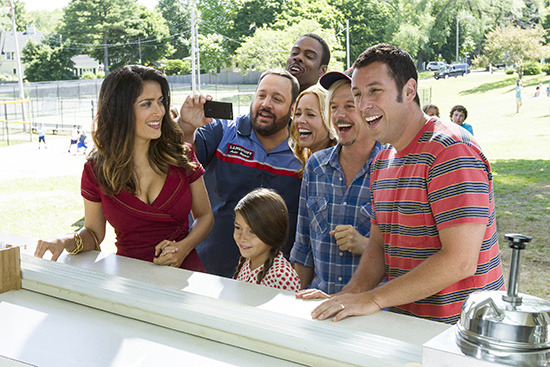 Grown Ups is one of the movies from the past few years that many people love to hate — even those people who haven't seen it. (Confession: I have not seen Grown Ups.) Presented below, mostly without comment, is the trailer for Grown Ups 2, in which Adam Sandler and Salma Hayek move out of LA and back to their home town. Soon they're joined by much of the rest of the cast from the first film, and if this trailer is any indication, the hijinks that ensue are wacky.
And keep an eye out for Taylor Lautner, doing comedy on purpose.
There's a reason this one will make money. Grown-Ups 2 opens on July 12, with appearances from Kevin James, Chris Rock, David Spade, Maya Rudolph, Maria Bello and Nick Swardson.
Lenny (Adam Sandler) has relocated his family back to the small town where he and his friends grew up. This time around, the grown ups are the ones learning lessons from their kids on a day notoriously full of surprises: the last day of school.