'Bears' Trailer: Disneynature Gets Grizzly In 2014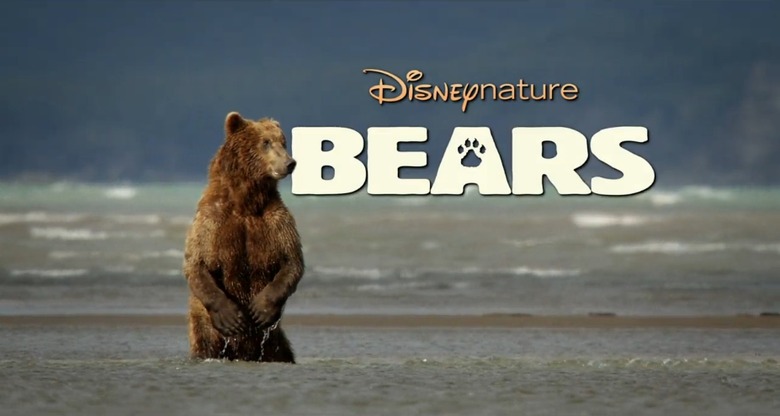 After exploring Earth, Oceans, African Cats, and Chimpanzee(s) over the past few Earth Days, Disneynature is taking a bit of a break from the theater this year. Their next film, Wings of Life, hits later this month, but only on home video.
But fear not, because Disneynature will be back in full force next year. The documentary label has just revealed a trailer for its next theatrical release, the simply titled Bears. As you may have guessed from the title, the film looks at bears, described by directors Alastair Fothergill and Keith Scholey as "one of the most iconic animals on our planet." Hit the jump to watch the video.
I know these are ferocious wild creatures, and there are plenty of shots that underline how frightening they can be. But those fuzzy little ears are gosh darn cute, aren't they? The plot, insofar as there is one, also sounds pretty endearing. Following the same family-friendly approach taken by Chimpanzee and African Cats, Bears centers on two mother bears raising their young cubs in a beautiful but dangerous world.
Disneynature's Bears lands April 18, 2014, just in time for next Earth Day.
Disneynature's new True Life Adventure "Bears" showcases a year in the life of two mother bears as they impart life lessons to their impressionable young cubs. Set against a majestic Alaskan backdrop teeming with life, their journey begins as winter comes to an end and the bears emerge from hibernation to face the bitter cold. The world outside is exciting—but risky—as the cubs' playful descent down the mountain carries with it a looming threat of avalanches. As the season changes from spring to summer, the brown bear families must work together to find food — ultimately feasting at a plentiful salmon run — while staying safe from predators, including an ever-present wolf pack. "Bears" captures the fast-moving action and suspense of life in one of the planet's last great wildernesses—where mothers definitely know best and their cubs' survival hinges on family togetherness.