First Footage From Disney's 'Planes,' Featuring Two 'Top Gun' Co-Stars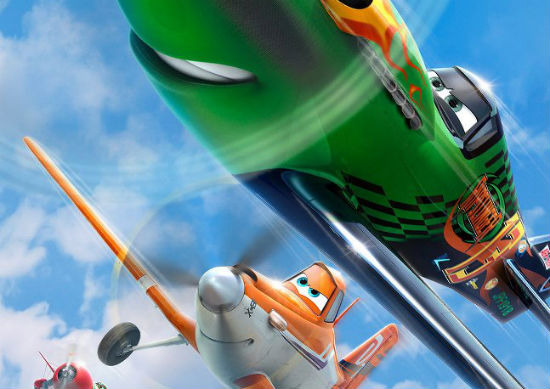 With Disney's announcement earlier today of a Finding Nemo sequel, Finding Dory, set for 2015, it's extremely interesting that they'd also choose today release a brand new glimpse of Planes. The Dory reveal started a lot of conversation, both on this site and Twitter, about Pixar's recent penchant for sequels. Planes isn't a sequel, nor is it a Pixar film, but many fans are going to assume both things when it's released this Summer. So let's set the record straight.
Planes is a spin-off of Pixar's Cars, created by Disney Toons Studios. They're the company that primarily does Direct-To-DVD films, and this film was originally intended as a video-only release. When John Lasseter (who created and directed both Cars films) got his hands on Planes, he decided it was bigger than that and it'll get a full theatrical release August 9 under the Disney banner.
What you'll see below is your first footage from the finished film, which recently announced Dane Cook as the main voice. It looks...incredibly exciting. Visually impressive, lots of speed and action. But it does bring up the issue of Disney going back to the well time and again.
Check out the footage and continue the discussion below.
Planes will feature the voices of Stacy Keach, Brad Garrett, Teri Hatcher, Cedric the Entertainer, Julia Louis-Dreyfus, John Cleese, Carlos Alazraqui, Priyanka Chopra, Gabriel Iglesias, Roger Craig Smith, Colin Cowherd, Sinbad, Oliver Kalkofe, Brent Musburger, Anthony Edwards and Val Kilmer.
The final two are featured in this video, for reasons that will be obvious when you watch it.
Here's the brief plot description:
From above the world of "Cars" comes "Disney's Planes," an action-packed 3D animated comedy adventure featuring Dusty (voice of Dane Cook), a plane with dreams of competing as a high-flying air racer. But Dusty's not exactly built for racing—and he happens to be afraid of heights. So he turns to a seasoned naval aviator who helps Dusty qualify to take on the defending champ of the race circuit. Dusty's courage is put to the ultimate test as he aims to reach heights he never dreamed possible, giving a spellbound world the inspiration to soar. "Disney's Planes" takes off in theaters on Aug. 9, 2013.
While this video only gives us a quick idea of what Planes is going to look like, it certainly has that big, theatrical Disney look. (Plus you've gotta love the Top Gun homage.) Is Planes a simple money grab to capitalize on the success of Cars? In some ways, yes.  The Cars universe has generated billions of dollars for Disney, helping them afford to make movies like The Avengers and acquire Lucasfilm. But just because it's set in a world that we've seen before doesn't mean it lacks the effort put forth on original content.
To say films like this, or Finding Dory, are Disney and Pixar just trying to make a quick buck is crazy. Yes they have a built in audience and yes, they'll probably make a lot of money. But they also have built in expectations and standards. That suggests the filmmakers would need to put in more effort to try and live up to audience anticipation.
Even though Planes is not a Pixar film, it'll probably be judged as one and I'm sure the people at Disney wouldn't have it any other way. Frankly, I'm looking forward to seeing how it plays out.