'The Conjuring' Trailer #2: James Wan's Horror Film That Is "Too Scary" For PG-13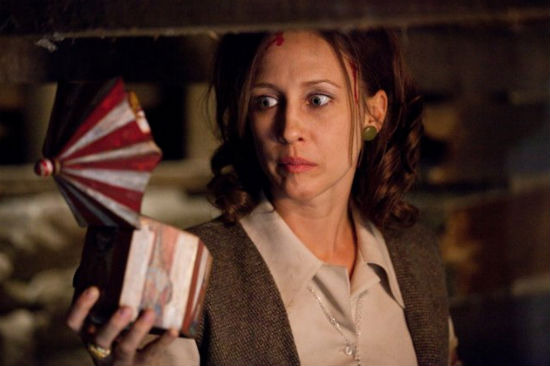 Saw, Dead Silence, Insidious and now The Conjuring. It would be very easy to assume the latest horror film from director James Wan to be another in a long string of scary films right in the director's wheelhouse. However as this new trailer shows, and as Wan said at WonderCon this past weekend, he doesn't feel he has anything more to prove in the genre. He was drawn to The Conjuring because its basis in fact, period setting and family dynamic gave him a whole new creative jolt.The Conjuring, out July 19, stars Vera Farmiga and Patrick Wilson as real life paranormal investigators Lorraine and Ed Warren. Best known for their work on what would become known as "The Amityville Horror," this story of small-town family haunted by spirits is supposedly so terrifying, the Warrens preferred not to talk about it. The film follows suit, gaining an R-rating without any language or graphic violence. At WonderCon, producers said the MPAA just deemed it "too scary" to give a PG-13.
Check out the trailer below.
Thanks to Facebook (via Bloody Disgusting) for the heads up.
Great trailer, especially the music and titles that make the film feel like something bigger than the usual horror fare. The mid-July release date suggests that too, as it'll be up against some real heavy hitters.
At WonderCon, Wan stressed that Warner Bros. is completely behind the film and, despite the bad news from the MPAA, said he didn't need to cut anything. In fact, the MPAA told him they didn't have any suggestions of specifics scenes to cut, the whole thing just had to be Rated-R.
Intrigued? That makes two of us.
The Conjuring, co-starring Ron Livingston, Lili Taylor and Joey King opens July 19.
Before there was Amityville, there was Harrisville. Based on a true story, "The Conjuring" tells the horrifying tale of how world renowned paranormal investigators Ed and Lorraine Warren were called upon to help a family terrorized by a dark presence in a secluded farmhouse. Forced to confront a powerful demonic entity, the Warrens find themselves caught in the most terrifying case of their lives.