'The Avengers 2' Will Film In UK Next Year; Plus Phase Two Concept Art And Featurette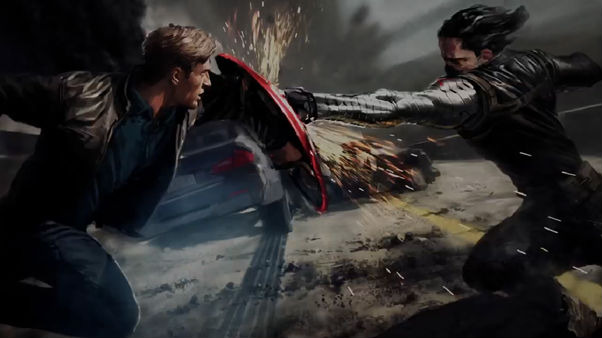 The Marvel Cinematic Universe Phase Two starts in just over a month with the release of Iron Man 3. It ends May 1, 2015 with the release of The Avengers 2, and a new report says director Joss Whedon will reassemble the team in the United Kingdom in early 2014 to get started on production.
Read more about that, see a Phase Two teaser video from the Phase One box set, and see some possible concept art from Captain America: The Winter Soldier and Guardians of the Galaxy, below.
ScreenDaily reports Whedon will direct The Avengers 2 at Shepperton Studios in Middlesex beginning in early 2014. It's the same studio where Alan Taylor shot Thor: The Dark World, and where James Gunn is gearing up to shoot Guardians of the Galaxy. Apparently, the studio's relationship with Marvel is quite good and they'll be heading there for the finale of the next wave of films.
Before Phase Two can conclude, though, we have Iron Man 3, Thor: The Dark World, Captain America: The Winter Soldier and Guardians of the Galaxy. The latter two are set to go into production in the coming months and Geek Zenith reportedly came across some concept art for them both.
Disney and Marvel have not, and likely will not, confirm if these are real. So since they come from a new, unproven source, take them with a grain of salt. [UPDATE: A Twitter follower says the concept art is real and comes an Easter Egg from the Phase One Box Set.] But even if they're not real, they're certainly interesting enough to check out and discuss. First up, this image of Captain America fighting Bucky as The Winter Soldier.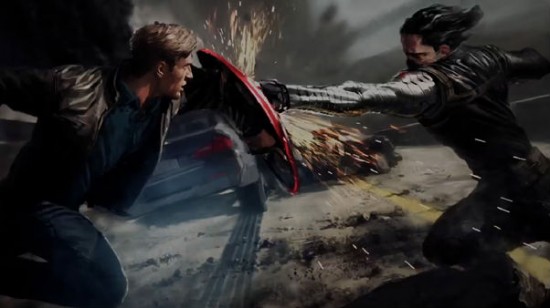 And then there are three images from Guardians of the Galaxy. The huge ship is cool, as is the almost Tron-like world, but the one I like is the Mos Eisely Cantina scene of Drax, Rocket Raccoon, Star Lord and the crew yapping.
Again, we do not have confirmation that these are authentic, but they undeniably look the part.
Finally, Collider found this Phase Two teaser from the massive Phase One box set. Obviously, it's not the fully video.
Are you surprised The Avengers 2 will be shooting overseas? Does that say anything about its setting? And what do you think of the art?