'This Is The End' Red-Band Trailer #2: Michael Cera Gets Saucy With Rihanna And McLovin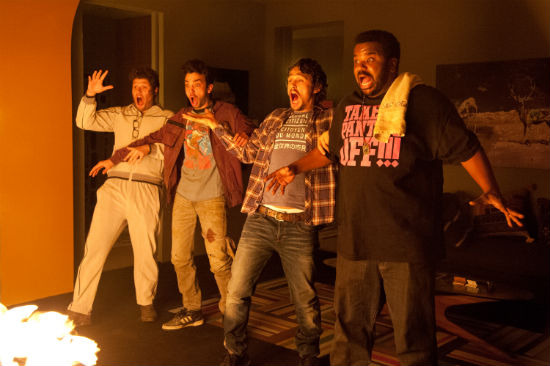 Put James Franco, Jonah Hill, Seth Rogen, Jay Baruchel, Danny McBride and Craig Robinson in a room together and there's no telling what's going to happen. They might make a sequel to Pineapple Express, they might try and perform an exorcism, or they might just rip each other to shreds verbally for each other's enjoyment. And that's not even considering what's going on outside.
In This is the End, written and directed by Rogen and Evan Goldberg, those six actors are the survivors of a massive, star-studded party that occurs at James Franco's house during the start of the apocalypse. Many stars die and, come June 12, many laughs will be had. After the big WonderCon panel over the weekend (read our coverage and interview here) they're debuting a brand new red-band trailer. Check it out below, and check back later this week for the tamer, but still hilarious, green band trailer too.
Thanks to Machinima for the trailer.
Again, please visit this page to see our interview with Rogen and Goldberg and check back later this week for the greenband trailer.
The comedy This Is The End follows six friends trapped in a house after a series of strange and catastrophic events devastate Los Angeles. As the world unravels outside, dwindling supplies and cabin fever threaten to tear apart the friendships inside. Eventually, they are forced to leave the house, facing their fate and the true meaning of friendship and redemption.