Sequel Bits: 'Transformers 4', 'Tron 3', 'Hot Tub Time Machine 2', 'The Raid 2'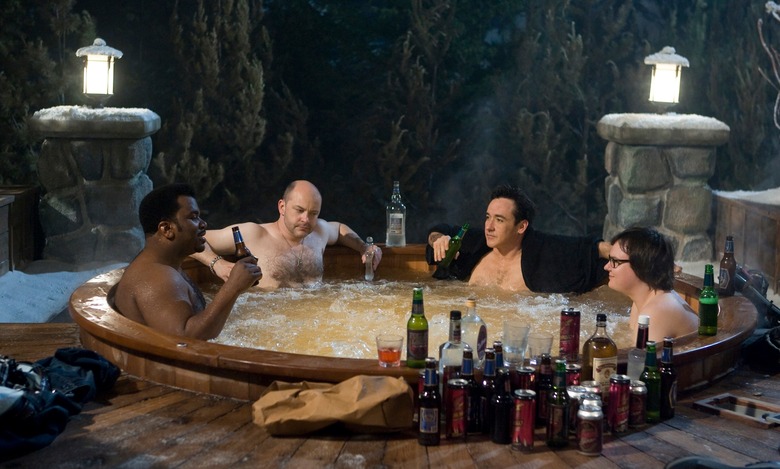 There's a lot to look at in today's Sequel Bits, including concept art for G.I. Joe: Retaliation and a bloody new image from The Raid 2: Berandal. Also after the jump:
Director offers status update and possible title for Tron 3
John Cusack may be back for Hot Tub Time Machine 2 this summer
Transformers 4 will shoot in May; is Shia LaBeouf returning?
Producer says a G.I. Joe / Transformers crossover is "possible"
Lindsay Lohan parodies herself in a Scary Movie 5 image
I think I'm two weeks away from getting the draft. This is a story we've been working on since 2009, so that's four years now. I'm really excited about the idea that we have for it. I think it delivers on the promise that both TRON movies have made. It opens the movie up, in a way that I think is going to give it a much broader appeal. Whereas TRON really, ultimately, in the end, catered most to TRON fans, this idea broadens it some more, in really exciting ways. But, it's all about the script and making sure that that story is compelling enough to get all of us back together. Those movies are hard to make. It's a two-and-a-half to three-year journey. So, to go back in there and go back to the Grid, it's going to have to be a pretty spectacular script. We've got a great writer on it, so we'll see.
Among the many components of the movie he's working on is a new name.
It has a working title, yeah. TR3N will be our code name. We have an idea, but nothing is set in stone yet. We have some exciting ideas.
TR3N or whatever it's called will likely be Kosinski's next project after the upcoming Oblivion. [Collider]Hot Tub Time Machine wasn't a box office smash right out of the gate, but it wound up doing well enough that MGM announced plans for a sequel earlier this year. And it sounds like the pieces are coming together fast, as star Craig Robinson says filming starts in June.
Those developments may include the return of star John Cusack. Although we previously heard that Cusack wouldn't be involved with the sequel, Robinson says that "negotiations are still going" with the cast. [Collider]
This weekend, we finally got to see the result of years of labor on G.I. Joe: Retaliation. But an old batch of recently surfaced concept art from Aaron Sims shows what might've been, with alternate costumes for Cobra Commander and more. Check it out:
io9 has tons more, including drawings of several landscapes.
Despite Paramount's apparent eagerness to move forward on G.I. Joe 3, producer Lorenzo di Bonaventura says not much thought has gone into what the next movie might be.
We haven't spent any time considering what the next movie is. There are elements we're really excited about. I'd like to do more ninja story. That's really fun, and I think the mythology will support some really cool things. You know, I was a really huge fan of the TV show Combat! as a kid, and there's an intimacy the show had because their budget demanded it—it's always a bunch of guys and they're going down a ditch. I'd like us to do some of that kind of stuff where you're really on an intimate level. 'Surprising' isn't the right word, but 'gratifying' how Dwayne and Channing's 'home scenes', if you would, they're not buddy scenes but they translated that way somehow. So they're basic character scenes, and they're domesticated scenes. How well that played in the scale of what we're trying to do. I'd like to see more of that.
Hear the rest of the interview at Collider.
As Paramount adaptations of Hasbro properties, the G.I. Joe and Transformers franchises are cut from the same cloth, in a way. But don't look for their paths to cross anytime son. Asked about the possibility of a cinematic crossover, producer di Bonaventura responded:
I guess it's possible. I don't know. I think I probably at this moment, I resist it. I don't know necessarily why, but I just think there's so much that's so rich in the mythologies that I don't think they need to draw from the other. I think, I didn't rule it out for me and I think those things have somehow for me, sort of in the past, they made me feel like a little bit cynical exercises in just drawing money out of something. It's not to say you couldn't do it well, but both these properties have such rich mythologies with so many characters, that you could go a lot of movies before you start running out of ideas of what to do. But it's not to say, if we found the right... I'd hate to set out to do that, but if I heard a story where we went, "Oh my God...," I could see a story right now about machination, machination of war and that could lead you sort of intrinsically to a Transformer. I think in general, Marvel is doing it within their own universe, right? And so it doesn't feel gimmicky in that way. I think that's what I would really try to resist.
That's not a definite no, but it seems safe to assume there won't be any Joes cropping up in Michigan when Transformers 4 shoots in late May. Among the many locations earmarked for shooting is Raleigh Studios in Pontiac, MI. A tipster recently spotted signs along the highway for a production titled "E7" — the same signs used for Transformers: Dark of the Moon. [OLV, TLAMB]
Just for the sake of completion, here's what is almost certainly an April 1 prank: a recent rumor suggests that Shia LaBeouf could be returning in a whole different form for Transformers 4. According to FansShare.com, the original trilogy star will voice one of the new Autobots in the next film. Again, this "news" should be taken with a big grain of salt. And yet, if fans like the idea and it comes true, it wouldn't be the first time an internet rumor caused actual developments on the film. (Another April 1 gag is the report on MichaelBay.com that Transformers 4, 5, and 6, will shoot back to back starting this summer.) Transformers 4 is set for release on June 27, 2014. [TLAMB]
Lindsay Lohan is poking fun at her big comeback project Liz & Dick in her other big comeback project, Scary Movie 5. The following could easily be the Liz & Dick porn parody, but is in fact from the new comedy: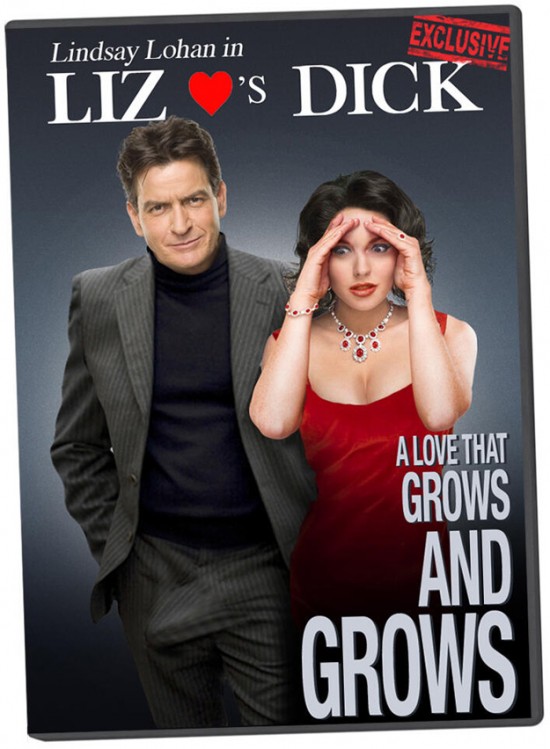 Love it or hate it, Scary Movie 5 has a pretty distinct comic sensibility. If you fall into the former camp, Scary Movie 5 opens April 12. [Coming Soon]
The first batch of stills from The Raid 2: Berandal didn't show much in the way of action, but now a gory, gritty new one has come along to reassure us that the sequel will be every bit as bloody as the original.
The Raid 2: Berandal has no release date as of yet.