'Behind The Candelabra' Teaser, Plus Steven Soderbergh's Plans For 'The Sot-Weed Factor' Mini-Series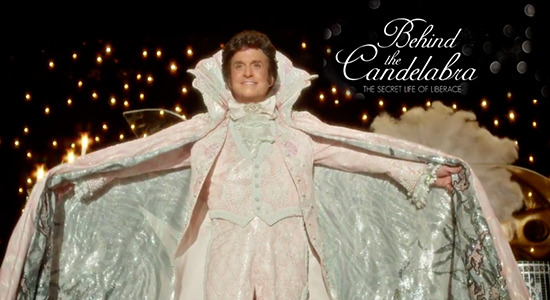 The last film Steven Soderbergh made before his self-imposed retirement/hiatus was Behind the Candelabra, based on Scott Thorson's memoir about his secret romance with the entertainer Liberace. Michael Douglas plays Liberace and Matt Damon plays Thorson in Soderbergh's film, which premieres in late May on HBO. We've seen one teaser that was free of actual footage, but now there is a second teaser clip that shows the two lead actors in all their glory.
Perhaps better than the teaser, however, is info about Soderbergh's next project — indeed, he plans to continue working, if not in the realm of theatrical features. (For now.) In the past, the writer/director has spoken of adapting John Barth's 1960 novel The Sot-Weed Factor, a savage satire set in the 1600s about "an English poet who moves to Maryland to take over his father's tobacco farm." Now he is developing a 12-hour miniseries based on the novel.
First up, here's the Behind the Candelabra teaser:
HBO will premiere the film on May 26th at 9/8c.
HBO Films presents Behind the Candelabra, starring Academy Award winners Michael Douglas and Matt Damon; executive produced by Jerry Weintraub; directed by Steven Soderbergh (Sex Lies and Videotape, Out of Sight, Traffic, Ocean's 11 – 13, Solaris, The Good German, Che, The Girlfriend Experience, The Informant, Contagion, Haywire, Magic Mike, Side Effects) from a screenplay by Oscar nominee Richard LaGravenese (of The Fisher King, The Horse Whisperer, P.S. I Love You, Water for Elephants, Beautiful Creatures). The film is produced by Gregory Jacobs, Susan Ekins and Michael Polaire.
In addition, EW reports on The Sot-Weed Factor development. Soderbergh explains,
I've had this on my shelf for a while. I was going to do it as a movie, but I couldn't figure it out. So now I've had it adapted as 12 one-hour episodes.
One problem with the adaptation has been the daunting task of crafting a long period tale without spending an insane amount of money. He says,
I think I've come up with a solve to do it cheaply. It's bold. If it works, it'll be super cool. And if it doesn't, you won't be able to watch ten minutes of it. I don't want to make a f—ing $85 million, 12-hour comedy set in the [1600s]. That's why I started thinking this way... I'll be interested to see what kind of deal I can make that's good. Not getting paid up front, but participating and owning it in some meaningful way if it works. If I agree that I'm going to make this thing as lean and mean as possible, what do I get for that? Everything is changing so fast, there may be some new way of skinning the cat that I don't even know about.
If that makes Soderbergh's "hiatus" sound like a pretty active one, he clarifies that "I've been very specific that [the hiatus] applies to movies. I didn't say I would stop working. I'm too restless to sit around."
And The Sot-Weed Factor is only one of his projects. He's working on stage musicals based on Magic Mike and Cleopatra, directing a play written by Scott Z. Burns (The Informant!, Contagion, Side Effects), and planning on writing books, doing some painting, and experimenting with an internet endeavor called Extension 765.