News Bits From The /Filmcast FilmAid Marathon Featuring Jason Reitman, Edgar Wright And Rian Johnson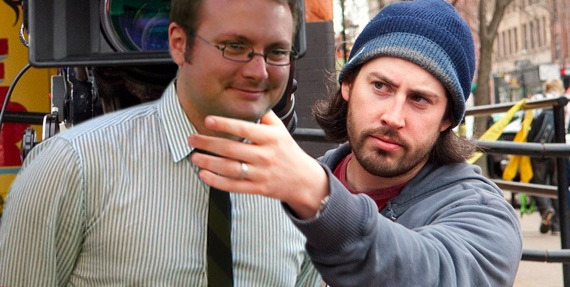 This past weekend, the /Filmcast held its 10-hour marathon podcast benefiting FilmAid. It was an action packed affair featuring long segments with many of the most popular filmmakers in Hollywood today. We had appearances from Rian Johnson (Looper), Jason Reitman (Up in the Air), David Wain (Wet Hot American Summer), Damon Lindelof (Lost), Bryan Singer (X-Men: Days of Future Past), Edgar Wright (Scott Pilgrim vs. the World), Jon M. Chu (G.I. Joe Retaliation) and more.
Over the course of the broadcast (which you can read more about here; check back soon for downloadable segments) many of those filmmakers provided juicy, newsy tidbits. You can read them after the jump, including Rian Johnson's thoughts on the new season of Breaking Bad, Jason Reitman's almost-foray into the X-Men universe and when we can expect to see the trailer for Edgar Wright's The World End.
We'll go one by one:
Rian Johnson on last episodes of #BreakingBad: "I kind of know where its going, and I'll say nothing except its tremendous" #slashfilmaid

— /Film (@slashfilm) March 30, 2013


Rian Johnson has directed two episodes of Breaking Bad and will return to do one more over the series' final eight episodes.
Rian Johnson's next film, writing now, still sci-fi, very different than #Looper, more Cyberpunk #slashfilmaid http://t.co/uQPyKpmTT7

— /Film (@slashfilm) March 30, 2013
No more news outside of that description, but it's certainly exciting that Johnson is choosing to stick with sci-fi for his next script. The question will be, is that the next feature he directs?
Jason Reitman revealed that at one point, 20th Century Fox talked to him about possibly directing a Kitty Pride X-Men standalone movie, starring Ellen Page and written by Diablo Cody. The three combined to make the Oscar-winning film Juno, and Reitman also directed another Cody script, Young Adult. And while Retiman's X-film obviously didn't happen, Page will return in the role for X-Men: Days of Future Past.
Reitman also revealed he's finished his latest film, Labor Day, but we won't get to see it for a while.
Finally, Edgar Wright revealed that the first trailer for his upcoming film The World's End will premiere either in late April or early May. The film opens both in the US and UK in August.