/Film Video Interview: 'This Is The End' Directors Seth Rogen And Evan Goldberg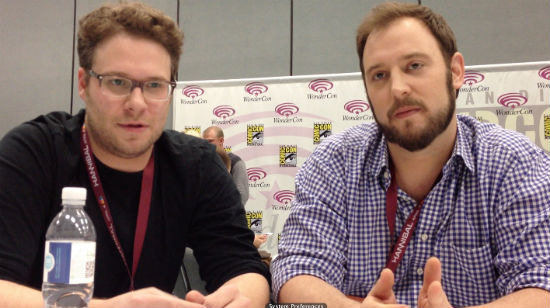 Seth Rogen and Evan Goldberg had a very tough task at WonderCon 2013. Their star-studded apocalyptic comedy This Is The End was the anchor on a three-film panel that included two franchises with a rabid fan base: The Mortal Instruments and Evil Dead. Both of those films electrified the crowd. But many people started filing out before the lesser-known third film, some original comedy starring James Franco, Jonah Hill, Seth Rogen, Jay Baruchel, Danny McBride, Craig Robinson, Michael Cera and Emma Watson. Those who stayed saw one of the best presentations of the day. The panel featured a new green band trailer for the film; two hilarious and revealing clips; a frank, funny Q&A; and Rogen dressed as Wolverine. Rogen and Goldberg were more than up for the challenge of selling the film.
Before all that, I sat down with the co-writers and co-directors for a 10-minute video interview where we discussed subjects such as the evolution of the movie's idea (famous friends at a party during the end of the world), how the first-time directors developed a style on set and in post, securing so many cameos, and the scope of the film.
Watch that interview below, and read more about the panel for This Is The End, which opens June 12.
Here's the video interview with Rogen and Goldberg. Check back later this week for the green band, and a new red band, trailer.
In the interview, the pair mentioned two clips that won't make it online. Both are pretty spoiler heavy.
BEGIN SPOILERS
The first clip started with everyone at James Franco's house, and something is horribly wrong. Everyone runs outside and sees the Hollywood Hills in flames. It's the end of the world. Just then, Michael Cera – wearing an awful, yellow and blue windbreaker – runs in front of everyone and doucheily (not a word, but it just works) asks "Who took my cell phone?" It's obvious this Cera is a total ass and, just as he's whining, a street lamp comes down and impales him through his chest. The lamp then picks him up as all his friends are screaming. Paul Rudd runs into frame, people are losing their minds, then the ground starts to open up. What follows are the death and dismemberment of about eight major stars in the next 60 seconds or so. And it's hilarious. Each is given their own little demise.
The second clip, from later in the film, was titled "The Exorcism of Jonah Hill." Yes, Jonah Hill (playing himself, like everyone else) has been possessed by a demon and Jay comes up with the idea to perform an exorcism by screaming "The power of Christ compels you!" Demon Jonah makes fun of him for a bit ("Does it really Jay? Does it compel me? It's not that compelling.") before it starts to work. The bed begins to rise off the floor and everyone starts screaming. End of scene.
END SPOILERS
On the panel – which included Rogen (as Wolverine), Goldberg (as a gimp), Craig Robinson and Danny McBride, tons of topics were discussed:
Murders in the film number well into double digits. 
McBride started shooting late and heard people were being vicious on set. So he went on message boards to come up with ammo about his friend's creative failures and flops. "Feelings got hurt," said Goldberg.
The biggest departure from the actual person is Michael Cera playing a cokehead.
Rogen and Goldberg are aware of the similarly titled "The World's End" by Edgar Wright, but don't think there's any crossover.
The movie includes several members of Freaks & Geeks but Rogen has never heard of any possible reunion.
The "international" success of The Green Hornet and heart of 50/50 are what they pair feel gave the studio confidence they could pull this off.
No one in Hollywood wanted the actors to play themselves, but Rogen and Goldberg were adamant, saying this is what made their film unique.
Rogen said the film has been testing very well with audiences, which is why he thinks Sony paid for them to come to WonderCon. "People like it."
As you can tell from the interview, clips and more, This Is The End is going to be very violent, very dark, very mean and very funny. It opens on June 12.