'Pacific Rim' WonderCon 2013 Panel: "Go Big, Or Go Extinct"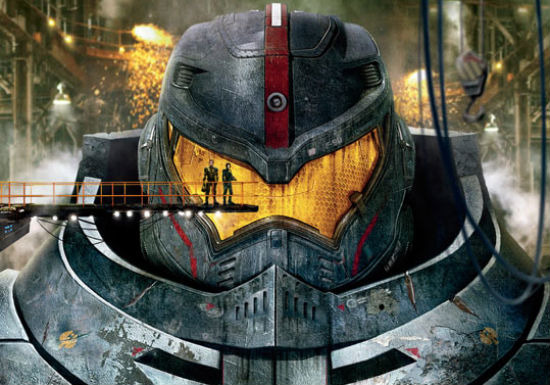 Guillermo Del Toro took the stage at WonderCon 2013 and received a hero's welcome. Ever since he wowed audiences at San Diego Comic-Con 2012 with the first footage form his upcoming film, Pacific Rim, we've been happily devouring any image or information we could get on the film pitting giant Jaeger robots against giant Kaiju monsters. But after that panel, and after the insane trailers that have been released online, how was Del Toro going to top his presentation?
He did it by showing a brand new, WonderCon (and CinemaCon)-exclusive trailer featuring footage that proves we have no idea how big things are going to get on July 12. I'm talking shots in space, I'm talking "2,500 tons of awesome," and a 25-story robot dragging an oil liner along the street and then swinging it like a baseball bat. Read much more below.
Del Toro said that, as of late March, the film's visual effects are 85% done, they're currently mixing sound, and he was so inspired by the fan reactions to his trailer (including at Comic-Con and via the sweded trailer) he decided to cut a new one. He said this would not come online, but a new online trailer is surely in the works.
Some of the highlights of the trailer include:
Idris Elba's character telling Charlie Hunnam's character he's tasked with saving a city of two million people. Hunnam's response, "Let's go fishing."
We get a history of how the Jaeger program was conceived, ending with Charlie Day calling them "2,500 tons of awesome."
Apparently, once the humans invented the Jaegers, they started beating the Kaiju. But then things changed.
The tag line is "Go Big, or go Extinct."
We get a shot of a Jaeger falling from the sky, towards the Earth. Yup, we're in space.
A Jaeger drags an oil liner (or cruise ship/ ocean liner — a big, big boat) along the street like a cartoonish murderer would drag an axe. He picks it up and swings it full force at the head of a Kaiju.
The final shot is a POV from a Jaeger clapping his fists around the head of a Kaiju in slow motion. It looks like a surefire, destructive death blow. Just then the Kaiju screams and jumps into the camera.
As for the rest of the panel, Del Toro spoke about a ton of things. For the sake of brevity, here are more bulletpoints.
The film focuses heavily on how society would react to being constantly invaded by aliens. This happens in the script, and is also layered in through visuals like "Kaiju warning" signs, etc.
Ron Perlman's character is named Hannibal Child, and he's a black market Kaiju organ dealer.
Del Toro thinks Day's character looks like Rick Moranis, JJ Abrams and a nerdy Bradley Cooper at different times throughout the film.
While most Jaegers have two pilots, to control the right and left lobe of the robot brain, the Chinese one has three, called "the triplets."
There are 12 monsters and 9 robots in the movie. They settled on them from dozens of designs by doing a daily American Idol vote off. From there, each got refined and personalized to their needs and countries.
Del Toro still gets a "shit-eating grin" every time he watches the movie.
The Jaegers weren't done with mocap because only straight animation could capture the size and weight.
Pacific Rim has been the best experience making a movie he's ever had because he and the studio are making the same movie. The worst experience he ever had? Mimic. "They wanted to make Alien, I wanted to make Mimic."
They're going to soon release a prequel graphic novel called Pacific Rim: Tales From Year Zero which will expand on backstory of the world in Pacific Rim. Here's the cover.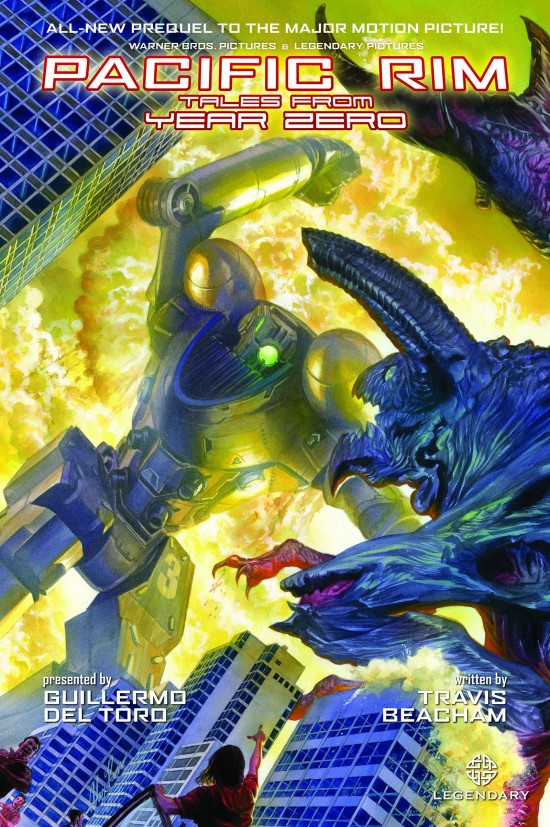 And here's the official description.
Legendary Comics and Pacific Rim director Guillermo del Toro gave WonderCon attendees a surprise treat today as they revealed the cover art for the graphic novel, PACIFIC RIM: TALES FROM YEAR ZERO. The fully-painted cover was created by Alex Ross.
Hitting stores June 5, PACIFIC RIM: TALES FROM YEAR ZERO serves as a prequel to the highly-anticipated motion picture –Warner Bros. and Legendary Pictures Pacific Rim.  Chronicling the very first time Earth is menaced by incredible monsters known as Kaiju, these inhuman beasts rise from the ocean depths and threaten to extinquish all mankind! Witness the race to develop massive robot fighting machines called Jaegers, each one controlled simultaneously by two pilots whose minds are locked in a neural bridge. This action-packed book features many of the key characters from the film as we follow them in their early careers. Written by Pacific Rim screenwriter himself, Travis Beacham, and with del Toro's hands-on supervision, this volume is beautifully illustrated by Sean Chen, Yvel Guichet, and Pericles Junior; inks by Steve Bird and Mark McKenna.
An awesome panel? To be sure. Del Toro also dropped some news about his Justice League Dark/Dark Universe film, which we'll write about soon.
Pacific Rim opens July 12.