'Iron Man 3' Will Suit Up In Innoventions At Disneyland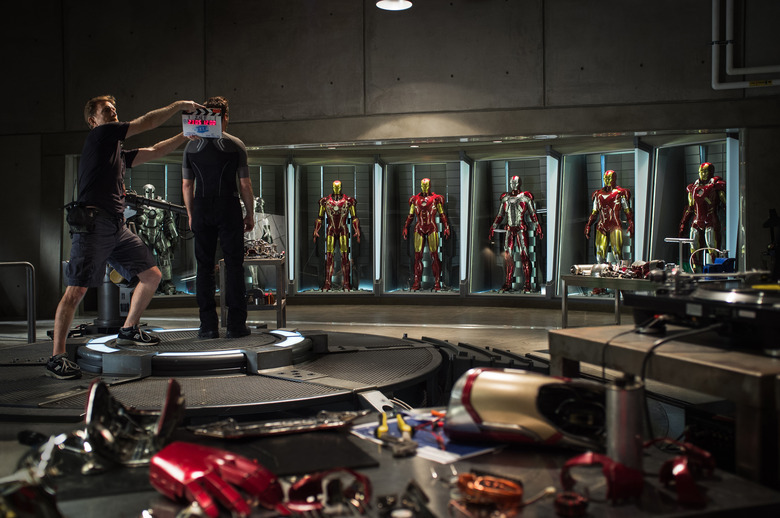 Innoventions at Disneyland might not be getting a full Stark Expo overhaul any time soon, but Marvel is flying in for the release of Iron Man 3. On April 13, the Tomorrowland staple at Disney's flagship location will welcome Iron Man Tech Presented by Stark Industries. The exhibit will feature Tony Stark's Hall of Armors (above) from the film itself and give park visitors the oppurtunity to virutally try on the suits and even mess around in Stark's workshop. Read more below.
Here's how The Disney Blog describes it.
To celebrate the upcoming release of "Iron Man 3," opening in theaters May 3, an exciting new exhibit is coming to Innoventions at Disneyland park in California – featuring actual set pieces from the film!
Beginning April 13, Iron Man Tech Presented by Stark Industries will give Disneyland park guests the chance to see Tony Stark's Hall of Armor, featuring Iron Man suits Mark I-VII – the same suits featured in "Iron Man 3." And you will even be able to virtually "suit up," yourself! Through simulation technology, guests will be able to see what it's like to operate the latest pieces of the Mark 42 Iron Man armor, even getting the chance to test out its infamous repulsor blasts.
Sounds like a temporary thing, but should be incredibly cool. And who knows? Maybe if this exhibit has lines around the building, they'll reconsider turning the entire attraction into a Iron Man/Tony Stark themed tech house.
Will you be heading to Disneyland to check this out?