'You're Next' Trailer: You're Going To Reap Just What You Sow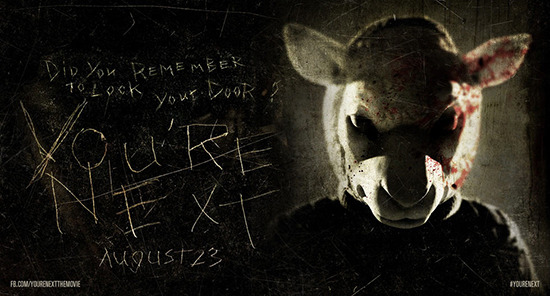 Almost two years ago, Toronto Film Festival and Fantastic Fest audiences made a lot of noise about the bloody home-invasion thriller You're Next. Now everyone gets to see what those few people were talking about.
Director Adam Wingard (A Horrible Way to Die, V/H/S) and screenwriter Simon Barrett (A Horrible Way to Die) have come up with a great spin on the hoary old home invasion movie, and populated it with a cast that is ready get dirty and bloody. Indie and genre faves (Sharni Vinson, AJ Bowen, Barbara Crampton, Amy Seimetz) and filmmakers (Joe Swanberg, Ti West) play members of a large family who come together for a celebration dinner at a relatively remote home in the country. The clan quickly finds that it has been targeted by masked assailants who have staked out the house with very violent intent.
A great use of Lou Reed's song 'Perfect Day' helps this trailer establish and then build tension. By the end you might be as impatient for the August release of You're Next as the film's creators must be.
For those who have become wary about spoilers in trailers for horror films, you don't have much to worry about here. This trailer will show you one death, but gives a great impression of the film's energy, violence, and sense of menace without spilling details better left to the movie itself.
You're Next opens on August 23. Apple has the trailer.
You're Next reinvents the genre by putting a fresh twist on home-invasion horror. When a gang of masked, ax-wielding murderers descend upon the Davison family reunion, the hapless victims seem trapped... until an unlikely guest of the family proves to be the most talented killer of all. A Lionsgate and Snoot Films presentation in association with Hanway Films.