Sequel Bits: 'Captain America', 'Red 2', 'Star Trek', 'Atlas Shrugged', 'Despicable Me 2', 'Kick-Ass 2'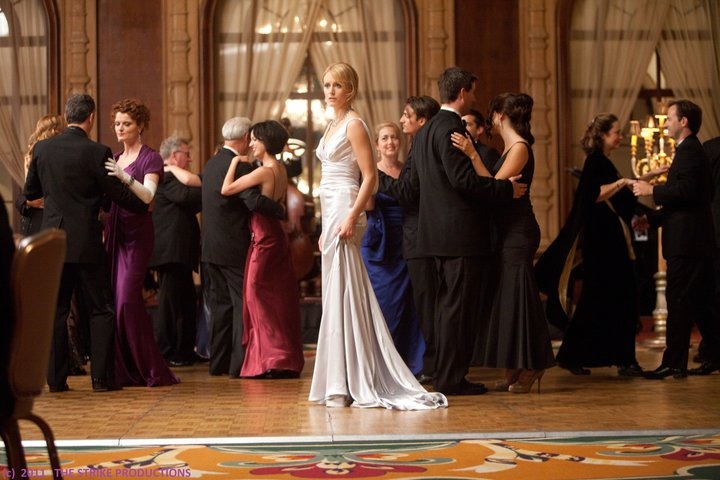 That third Atlas Shrugged you didn't ask for is on the way. Also after the jump:
Who wants to be an extra in Captain America?
Lorenzo di Bonaventura talks up Red 2 and Jack Ryan
Here's what Al Pacino will look like in Despicable Me 2
Check out another new Star Trek Into Darkness image
Kick-Ass 2 reveals some kick-ass character posters
G.I. Joe: Retaliation gets an action-packed featurette
As a producer, it's kind of Lorenzo di Bonaventura's job to talk up his upcoming projects, but it's still nice to hear he has good things to say about them. While Red 2 has yet to screen for an audience, he's confident that the film will fare quite well when it does.
It's really fun, it's really good.  I think the best measure of it is that all the cast members that we added—Byung Hun Lee, Catherine Zeta Jones, Anthony Hopkins, David Thewlis—we added some really great actors and they really killed it.  So I think we made, I say 'a richer broth.'  And [director] Dean [Parisot] has a great sense of comedy and there's just some laugh-out-loud funny stuff in it.  I really love it, but you never know what it's gonna feel like until you show it to an audience, which is next week.
He also touched upon the upcoming Jack Ryan reboot, with plenty of enthusiastic praise for lead Chris Pine.
I've seen the film cut together.  I think the biggest question when you make a movie that's about a guy is, 'How's Chris Pine?'  Chris Pine nailed it, he just nailed it.  He's just picture perfect all the way through the movie, I think, and we showed it to one audience so far and the audience just loved him in it.  So that's the make it or break it, and we made it.
Red 2 opens July 19. Jack Ryan lands a few months later, on December 25. [Collider]
The Atlas Shrugged franchise isn't letting a little thing like their total rejection by the free market keep them from pressing on. Despite a paltry $8 million box office take for the first two films combined, Atlas Shrugged Part 3 is on track to hit in Summer 2014, not too long before the midterm elections that fall.
At least the producers are being a bit smarter about their money this time around — the entire project will be made and marketed for just $10 million, compared to the $10-$20 million spent on each of the first two films. No cast or director has been announced as of yet. [THR]
Al Pacino's first foray into animation has him looking kind of... round. At least according to this bit of merchandising from Despicable Me 2.
@slashfilm Al Pacino in Despicable Me 2? pic.twitter.com/t7F9MilMql

— Tank Tanski (@P0LISHPHEN0M) March 28, 2013
Don't let the silly appearance fool you, though. As far as we know, Pacino's "Eduardo" is the big villain of the piece, the one so bad that the Anti-Villain League is joining forces with Gru (voiced by Steve Carell) and his minions to take him down. Despicable Me 2 opens July 3.
The intense secrecy surrounding Benedict Cumberbatch's mysterious Star Trek Into Darkness villain has only increased the interest in the character among fans. And perhaps among the Enterprise crew as well, going by this photo of Dr. McCoy (Karl Urban) examining John Harrison.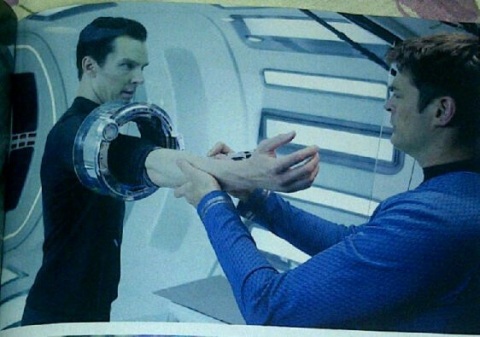 The cast is staying vague about Harrison's backstory and details, but they've been more than happy to talk about what makes him so fascinating. Here's Simon Pegg:
It's a modern take on terrorism in a way. It looks at why Benedict is doing what he's doing. There are motives that make you think he's not a bad guy and alliances form. All the time we're being puppeteered by this John Harrison, even Kirk falls for it. He manipulates us as much as the audience.
Star Trek Into Darkness arrives May 17. [Empire via Trek Movie]Kick-Ass 2's colorful bunch of do-gooders is getting memorialized in a new set of character posters. First up are returning heroine Hit-Girl (Chloë Grace Moretz) and new hero Colonel Stars and Stripes (Jim Carrey). He's the leader of Justice Forever, a superhero gang that brings Kick-Ass and Hit-Girl into their ranks.
This is a separate batch from the one we posted last week, so look for more to hit in the coming days. Kick-Ass 2 drops August 16. [via Coming Soon, Screen Rant]
The 3D conversion that delayed G.I. Joe: Retaliation by nine months gets to take the spotlight in this explosive new featurette.
G.I. Joe: Retaliation is in theaters today. [THR]