Star Wars Bits: Tokyo Disneyland, The White House, Carrie Fisher, Harrison Ford, Ian McDiarmid, Diane Kruger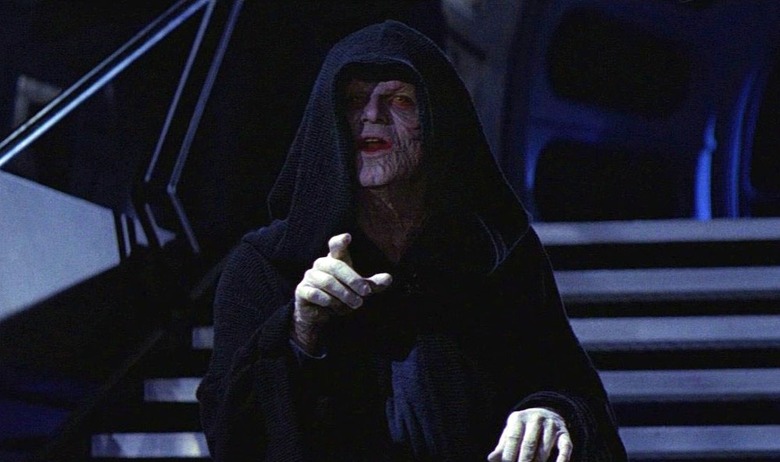 Harrison Ford doesn't "even want to discuss" Star Wars, but plenty of other people do. Also after the jump:
Fans petition the White House for National R2-D2 Day
A Lucasfilm exec blogs about animation layoffs
Carrie Fisher will be at Star Wars Celebration
Ian McDiarmid wants to return as Palpatine
The Rock is "very excited" for Episode VII
Diane Kruger would also love to do Star Wars
Darth Vader attacks Tokyo (Disneyland)
In the iconic Star Wars saga, R2-D2 always seems to save the day, getting his Jedi masters and the forces of the Republic out of harm's way, and doing so with grace and humor. But the astromech droid never gets the full credit or honors he deserves for his deeds.
In that sense, R2 is a stand-in for all of the under appreciated and unheralded heroes in our everyday lives — in our workplaces, schools and communities.
We should all join together on a national holiday to pay homage to those who, like R2, live by the "selfless, not selfish" creed.
Currently, the proposal only has 248 of the 100,000 signatures it needs by April 13 to get official White House consideration. Click here to help them out. [Yahoo]
Disney's cancellation of The Clone Wars has led to an unfortunate round of layoffs for the animation staff, and Lucasfilm Head of Studio Operations Colum Slevin took to Tumblr to express how he felt about them.
Today I saw people exhibit fear and pride, sadness and resolve, grace and stoicism, heartbreak and appreciation.
But above all, I saw Character.
While I'm sure he meant no harm, I'm betting the last thing those unlucky artists want to see is their former boss — who still enjoys a cushy gig at the company that just put them out of a job — blogging about them and praising them for their "Character." [Cartoon Brew]
Carrie Fisher's return for Episode VII isn't a lock yet, even if she does like to "joke" that it is, but her appearance in another Star Wars-related event is totally confirmed. The actress will be at Star Wars Celebration Europe, signing autographs and meeting with fans. In addition, she'll engage in an onstage interview and Q&A session.
The event takes place July 26-28 in Essen, Germany. See the official site for more details. [Mania]
Harrison Ford recently said he would probably appear in Episode VII, but the actor doesn't want to say too much about the possible casting yet. Asked what it would take to get him to reprise his role, he responded, "I don't even want to discuss that. It's great. Ain't it great?"
He's more comfortable, however, discussing his feelings on J.J. Abrams. "I think he's fantastic," Ford said. "I did his first movie, Regarding Henry, with Mike Nichols. A wonderful talent. Extraordinary guy." [USA Today]
MTV also talked to Ford, who described his current acting interests as follows: "It might be nice, depending on the circumstances, to revisit any one of those characters. What interests me now is the opportunity to work at all and to work in ambitious projects." The video of the interview is below.
More forthcoming with his interest is Ford's former co-star Ian McDiarmid, who played Palpatine / Darth Sidious. "Yes, I'm sort of interested in any future development he might have," McDiarmid said.
Unfortunately, as you probably know, he died at the end of Episode VI, Vader sent him to cosmic hell so he's not going to feature in any of the new Disney ones, I don't think.
On the other hand they've got lots of exciting ideas for spin-offs about separate characters and so on, and then there is the television series which George has talked about and decided to make into being for a number of years, and that takes place between Episodes III and IV when the Emperor is very much alive. So I think he probably does have a future.
If the rumored plot floating around last week is true (and it probably isn't, but who knows), Palpatine's influence will definitely be felt in the next film. Which, then, could possibly open the door for McDiarmid to return in some form. [SciFiNow]
Star Wars isn't really in need of any "franchise viagra," but Dwayne Johnson reiterates that he'd be happy to offer his services if the movie comes calling. The actor named the film series as one he'd love to be a part of.
And that's not to say that they need it. Obviously they're doing very well. J.J. [Abrams] is just gonna crush it. I'm so excited. There's a guy, by the way, who's not just a brilliant director, but who honors and respects mythology. You've seen that with Star Trek and you're going to see that with Star Wars. I'm very excited about that."
Johnson has been careful to clarify that he hasn't actually been cast in the film yet, but surely putting the word out there like this can't hurt. [Coming Soon]
In other wannabe casting news, Diane Kruger says she'd like a piece of the franchise as well. Explaining that Star Wars was her "first love," she enthused, "I would love to be in Star Wars. Are you kidding?"
In fact, she's actually played a Star Wars character before — sort of. "I had to go to Comic-Con one year and I put on a Darth Vader mask and walked the grounds. It was so cool!" she added. [Yahoo UK]
Tokyoites have some experience with vicious cinematic forces destroying their fair city. The next one to do so may be Darth Vader.
That is, if he can even find his way around.
The videos are promos for the newly revamped Star Tours attraction Tokyo Disneyland, which opens this spring. [io9]