Adrianne Palicki Hints At 'Friday Night Lights' Kickstarter, Bryan Fuller Says 'Pushing Daisies' Needs $10 Million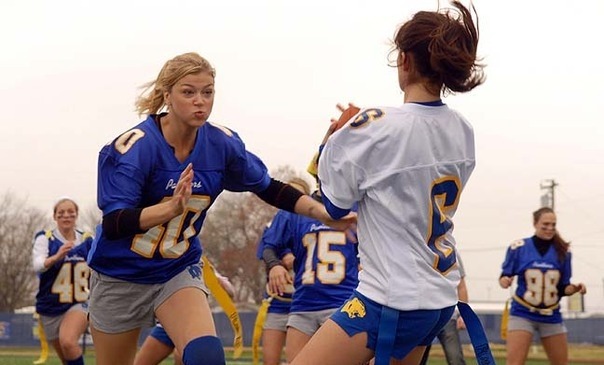 Ever since Veronica Mars paved the way for crowd-funded TV to movie revivals, it seems like every actor, writer, or director ever associated with a beloved but cancelled series has been fielding questions about Kickstarter. Some have squashed the idea right off the bat, but others have been a bit more open to the concept. (And The Onion has poked fun at all of it.)
According to actress Adrianne Palicki, Friday Night Lights could very well turn to Kickstarter to pay for the long-rumored movie sequel. Meanwhile, Pushing Daisies creator Bryan Fuller is definitely intrigued by crowdfunding — but acknowledges that his show would require quite a bit more than the $2 million goal originally set by Rob Thomas and Kristen Bell. Hit the jump to keep reading.
I think they're starting the Kickstarter, which is insane. It's crazy. I have multiple feelings on it. I love it so much and I'm afraid that a movie might ruin it and I don't want that to happen. We went out on top. At the same time, to get to be on that show again, I would die for it. I would love to do it. I'm right there in the middle.
It's not up to Palicki whether or not the Texas-set drama continues as a movie, let alone whether it tries to raise money on Kickstarter, so her comments should be taken with a grain of salt. It's also worth pointing out that Peter Berg and the stars have been talking about a FNL sequel for years with nothing to show for it so far. Still, if Berg is really dedicated to a FNL movie, I wouldn't be surprised if he's at least flirting with the Kickstarter idea.
Unlike Palicki, Fuller seems to have few reservations about bringing back his cancelled series. In fact, he's already started working on the script. "I had actually started writing a Pushing Daisies film, and I had the first act of it," he told Film School Rejects.
We know Fuller has already reached out to Thomas to discuss the new model, so he seems to be seriously exploring his options. The budget, however, may be a big sticking point.
With Pushing Daisies, we had to build a world. We have to build the pie hole, visual effects, have zombie makeup, and there's a lot more production elements involved. We made the one-hour pilot for $6 million. Every [other] episode was about $3m to make for the series. To do a movie, I believe we would need between $10-15 million to do it, and that's harder to ask for than what Veronica Mars is asking for.
And before he can even try to raise the money, he has a few things to sort out.
I emailed Barry Sonnenfeld first, asking, "Would you direct it?" He said, "Well, let's go to the studio first." [Laughs] Yeah, let's do this one step at a time. I mean, with Veronica Mars they laid out their plan, had all their ducks in a row, and knew what they were doing by the time they hit Kickstarter. I have a lot of catchup to do to see what is possible for Pushing Daisies, what the studio involvement would be, and what the studio's appetite would be. I have a lot to learn from Rob Thomas on how they pulled it off, and to see if I can do the same with Pushing Daisies.
Discuss: Would you chip in for a Pushing Daisies or Friday Night Lights movie? I'd say yes to the former and no to the latter. Friday Night Lights the series had a perfect ending, and I don't see much point in giving it another one.