Listen To Another M83 Track From 'Oblivion,' See A New Featurette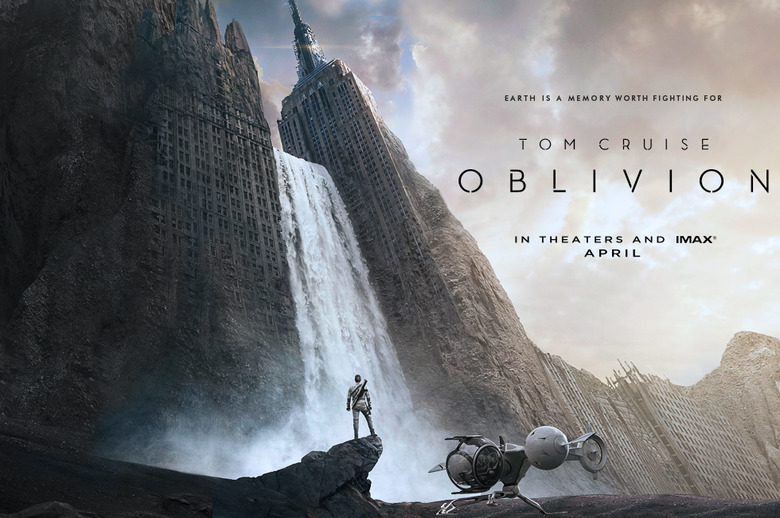 The first track released from the Oblivion score, crafted by Anthony Gonzalez of M83 and Joseph Trapanese, was a big layered cake of swelling synth sounds powered by a slow but rising drum beat. The new track is the title tune, which will likely play over the end credits. Like that first track, it features Norwegian singer Susanne Sundfør, and is a more upbeat track right off the bat.
This one doesn't do as much for me, as has the tenor of a lot of end credit songs that are tailored to be broadly appealing. Your mileage may vary, however, so have a listen below — it'll send a lot of people dancing out of the theater, at the very least, and Sundfør's voice is quite pretty.
Along with that tune, we've a new featurette, on the film's Sky Towers. (We've also embedded one on the Bubble Ship that we hadn't highlighted before, just to give you more from Joseph Kosinski's new film.)
Here's the tune, via the AV Club:
And the featurettes, beginning with today's new look at the sky towers:
Oblivion opens on April 19th.
Tom Cruise stars in Oblivion, an original and groundbreaking cinematic event from the director of TRON: Legacy and the producer of Rise of the Planet of the Apes. On a spectacular future Earth that has evolved beyond recognition, one man's confrontation with the past will lead him on a journey of redemption and discovery as he battles to save mankind. Jack Harper (Cruise) is one of the last few drone repairmen stationed on Earth. Part of a massive operation to extract vital resources after decades of war with a terrifying threat known as the Scavs, Jack's mission is nearly complete. Living in and patrolling the breathtaking skies from thousands of feet above, his soaring existence is brought crashing down when he rescues a beautiful stranger from a downed spacecraft. Her arrival triggers a chain of events that forces him to question everything he knows and puts the fate of humanity in his hands.