Sequel Bits: 'The Hobbit', 'The World's End', 'The Muppets... Again', 'The Hangover III', 'Anchorman 2'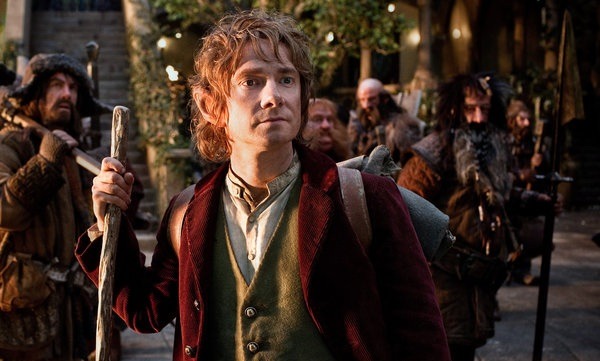 Who wants to see the first trailer from The Hobbit: The Desolation of Smaug? Well, too bad, because it's not coming for another few months. Also after the jump:
Anchorman: The Legend Continues goes ice skating
The sequel to Gareth Edwards' Monsters starts filming
The Muppets... Again! adds two fine English actors
See a new image from Edgar Wright's The World's End
And familiar-looking one for The Hangover Part III
Scary Movie 5 has a relatively inoffensive TV spot
Jackson promised that the first trailer would hit sometime this summer, though he was vague on specifics. The openings of Warner Bros.' Man of Steel or Pacific Rim seem like decent possibilities, or perhaps Hall H at San Diego Comic-Con.
While most of the film should be familiar to those who've read the books, Jackson talked up one of the new additions he and his team had made. "We're quite excited about the storyline we have created for Tauriel," he said of the new elf character played by Evangeline Lilly. "As you can see, she's not an Elf Guard to be messed with."  The Hobbit: The Desolation of Smaug debuts December 13. [Screen Crush]
We can definitely count on the Channel 4 news team to get up to all sorts of crazy hijinks in Anchorman: The Legend Continues. And apparently, one of their shenanigans will involve ice skating. Anchorman lead and former Blades of Glory star Will Ferrell was spotted shooting at a temporary rink this weekend.
How exactly that fits into the story — which deals with diversity, cable news, New York City, and a chicken restaurant, among other things — remains to be seen. We look forward to finding out when the movie premieres December 20. [Access Atlanta via Cinema Blend]
As Gareth Edwards' Godzilla gets underway in Vancouver, shooting has also begun in Jordan for Monsters: Dark Continent, the sequel to the 2010 thriller that put him on the map. Misfits director Tom Green takes the helm this time around, with Johnny Harris (Welcome to the Punch), Sam Keeley (What Richard Did), and Joe Dempsie (Game of Thrones) in the lead roles.
Set several years after the original, Dark Continent picks up with Infected Zones all over the world. (You can get a more detailed synopsis here.) The new film will remain in Jordan for five weeks before moving to Detroit for another week of shooting. Edwards serves as executive producer. Dark Continent will likely hit sometime next year. [Screen Daily]
In typical fashion, The Muppets... Again will be jam-packed with recognizable celebrities. In addition to the central human cast, which includes Ricky Gervais, Tina Fey, and Ty Burrell, Ray Liotta, Peter Serafinowicz, and Christoph Waltz are set for smaller roles. Now Avengers star Tom Hiddleston is joining the gang for their European jaunt as well.
An eagle-eyed fan at Muppets Henson noticed that Hiddleston's resume on Hamilton Hodell (his agency) lists a gig as "The Great Escapo" in The Muppets... Again. The line has since been deleted, but it's still in the Google cache. Who The Great Escapo is, we don't know. Some kind of magician, perhaps?
Hiddleston's mostly known for darker and more serious roles, but anyone who's seen his ridiculous "Loki'd" skit for MTV knows he looks just as comfortable playing light and funny. The Muppets... Again opens just over a year from now, on March 21, 2014. [Bleeding Cool]
A picture of five dudes walking down the street isn't normally very exciting, but when the it's a still from Edgar Wright's highly anticipated The World's End it's definitely worth a peek.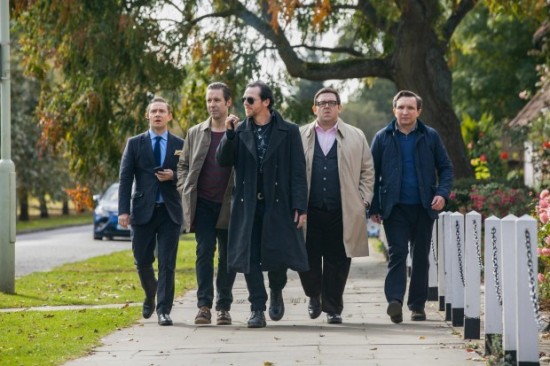 Yeah, this isn't technically a sequel, but it's the third leg of Wright's "Blood and Ice Cream trilogy," so let's say it's close enough. Simon Pegg, Nick Frost, Martin Freeman, Paddy Considine and Eddie Marsan play childhood friends attempting an epic pub crawl and facing both a bar called The World's End and possibly the actual world's end. The movie arives August 23. [FilmoFilia]
The Hangover Part II was knocked by critics and fans alike for a near carbon copy of the first film. The Hangover Part III promises to take the story in a new direction by sending the wolf pack (Bradley Cooper, Ed Helms, and Zach Galifianakis) on a road trip. But that doesn't mean there won't be callbacks to the other movies. Like this picture, which references this one and that one.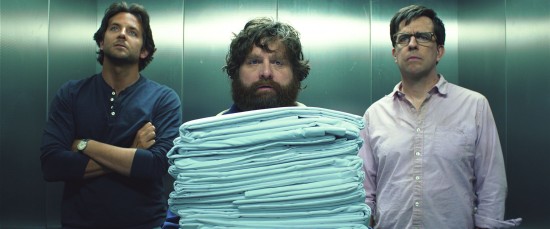 The Hangover trilogy comes to a no doubt thrilling conclusion on May 24. At least, I hope it does. Who knows — if it makes enough money, I'm sure someone will try to make a fourth one happen. [Collider]
The Scary Movie franchise lost leads Anna Faris and Regina Hall after Scary Movie 4 in 2006, but its wacky sense of humor remains firmly intact in Scary Movie 5. Ashley Tisdale and Erica Ash star in the film, which riffs on Black Swan, Mama, Paranormal Activity, and more.
This is actually one of the better Scary Movie 5 ads I've seen. It's still not that funny or scary, but at least the jokes are less obnoxious than usual. By this point in the franchise, you probably know whether or not a fifth Scary Movie is for you. If it is, Scary Movie 5 opens April 12. [Fandango]