'Iron Man 3' Gets A Kids' Choice Awards TV Spot And A Walt Disney World Monorail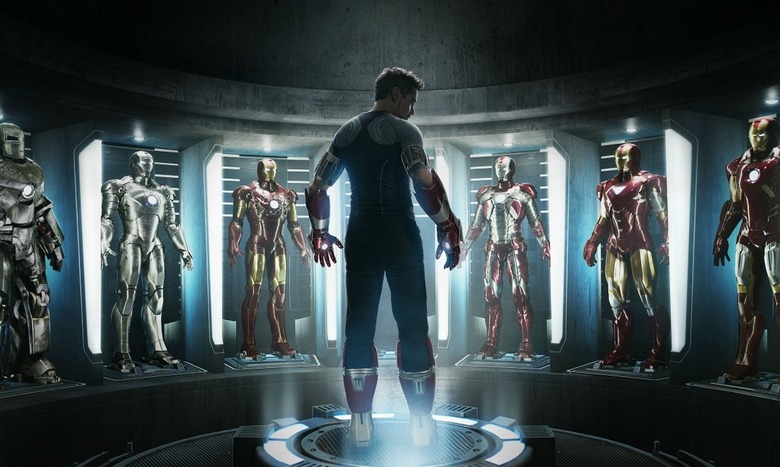 Much of the country is still experiencing that early-spring chill, but summer is just six weeks away. Or the Hollywood version of it is, anyway. Early May marks the start of this year's crowded blockbuster season as Iron Man 3 lands in theaters.
Marvel's been marketing the hell out of this movie (remember when we got a poster like every two days?) and this weekend they made a grab for the family crowd with two new efforts. The first is a new TV spot that aired during the Kids' Choice Awards, featuring bursts of new footage, and the second is an Iron Man 3-themed monorail winding its way through Walt Disney World. Hit the jump to keep reading.
Some of the general marketing for Iron Man 3 has been pretty dark, focusing on what may amount to an existential crisis for Tony (Robert Downey Jr.). Not surprisingly, though, the kid-oriented spot ignores most of that stuff. Instead, it features the hero's cocky sense of humor, loads of high-energy action and a wide array of Iron Man costumes. (All of which will eventually be available on toy shelves, I'm sure.) Don Cheadle's James Rhodes sums up exactly what Marvel Studios wants youngsters to think: "That's awesome!" I can't say I disagree.
Attractions Magazine posted pictures and video from the Iron Man 3 monorail — a.k.a. the "Iron Man'orail" — debut at Disney.
That's a pretty leisurely pace for Iron Man, but selling the movie and saving the world require two totally different speeds. This is the same monorail that turned into the "Tronorail" to promote Tron: Legacy in 2010 and was redone to advertise The Avengers last summer.
Directed by Shane Black and also starring Gwyneth Paltrow, Ben Kingsley, and Guy Pearce, Iron Man 3 opens May 3.
Marvel's "Iron Man 3? pits brash-but-brilliant industrialist Tony Stark/Iron Man against an enemy whose reach knows no bounds. When Stark finds his personal world destroyed at his enemy's hands, he embarks on a harrowing quest to find those responsible. This journey, at every turn, will test his mettle. With his back against the wall, Stark is left to survive by his own devices, relying on his ingenuity and instincts to protect those closest to him. As he fights his way back, Stark discovers the answer to the question that has secretly haunted him: does the man make the suit or does the suit make the man?