'You're Next' Teaser Posters: Menacing Animal Faces Promise Dire Terror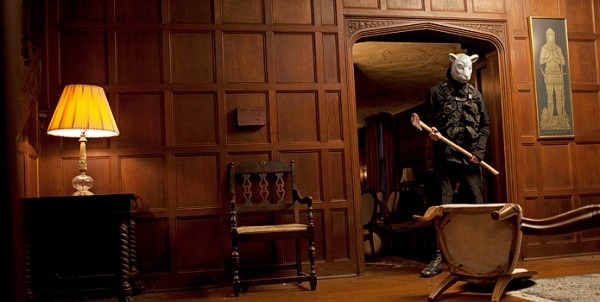 In 2011, one of the hits of TIFF and Fantastic Fest was Adam Wingard's home invasion thriller You're Next. The film drew raves at just a couple of festival screenings and was snapped up by LionsGate. But rather than releasing the film quickly, the studio held on to it for a while. After appearing once at Fantastic Fest in September 2011, the film was dormant until just over a week ago, when it played at SXSW.
Now You're Next has a release set for August 23 this year, and we've got the first wave of new promo materials for the film. The movie is built around a family reunion at a semi-remote mansion, and observes as a group of masked intruders attacks the family with murderous intent. The opening promo salvo is a set of teaser posters that show off the masks, and that give a sense of the dire atmosphere that pervades much of the film.
I got to see You're Next at SXSW and had a great time with the movie. Sharni Vinson is incredibly energetic and forceful as the lead character, and there is a blend of humor and overt violence that many films try to capture. Few succeed in the way this one does.
The first trailer for You're Next hits on Thursday, March 28th.  The film also stars AJ Bowen, Amy Seimetz, Barbara Crampton, Wendy Glenn, Margaret Laney, Rob Moran, Joe Swanberg, Nicholas Tucci, and Ti West.
A fresh twist on home-invasion horror. A gang of masked murderers descend upon a family reunion, and the victims seem trapped...until an unlikely guest proves to be the most talented killer of all.