Jason Reitman's 'The Usual Suspects' Live Read Highlights The Power Of McQuarrie's Script And Singer's Direction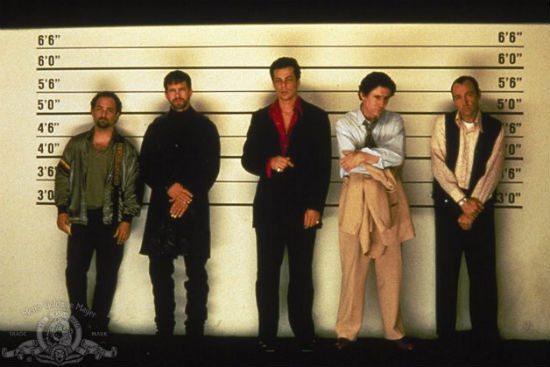 For Jason Reitman's final live read of the 2012-2013 season, he chose a revered, Oscar-winning screenplay: Christopher McQuarrie's The Usual Suspects. When that title was announced I was initially skeptical. I thought, "The Usual Suspects is so well known for its surprise ending, and that ending is so incredibly visual, how would it come across in a live read setting?" The answer was revealed in two ways. First this read suggests that Bryan Singer's direction in the original film is powerful and underrated. Also, as great as the ending to McQuarrie's script is, some of his true poetry isn't even on the screen.
Presented by Film Independent at LACMA, read more about the star-studded cast (which included Dexter's Michael C. Hall, The League's Mark Duplass and original cast member Kevin Pollak) below.
Bringing together his own Usual Suspects, Reitman cast a fantastic blend of his regulars and new blood:
Kevin Pollak as Dean Keaton, originated by Gabriel Byrne
Michael C. Hall as Verbal Kint, originated by Kevin Spacey
Adam Brody as Michael McManus, originated by Stephen Baldwin
Nick Kroll as Fenster, originated by Benicio del Toro
Mark Duplass as Todd Hockney, originated by Kevin Pollak
Chi McBride as Dave Kujan, originated by Chazz Palmintari
Jason Mantzoukas as Jack Baer, originated by Giancarlo Esposito
Mae Whitman as Kobayashi, originated by Pete Postlethwaite, and Edie, originated by Suzy Amis
As usual, the cast was stellar. A few highlights included Pollak giving Duplass a pound after Duplass delivered his first line, Whitman's cold delivery as the evil lawyer, Kroll's over the top Fenster voice and Pollak's spot-on Byrne impression.
Chi McBride and Michael C. Hall were the two standouts. McBride, currently seen on Golden Boy, got a mid-script ovation for Kujan's screaming speech in the middle  of the film. And Hall was mesmerizing as the meek Verbal, literally tensing his body and pretending he was a gimp to deliver the lines right. His casting was a home run.
The true star of the night, though, was Reitman himself. More than most of the previous screenplays he's featured in the series, The Usual Suspects thrives on detail in the screen directions. Everyone knows McQuarrie's dialogue is brilliant. The structure and slow leak of information is incredible and we don't even have to mention the twist ending. But what most people don't know is that his descriptions, details, and ideas are beautifully realized on the page, including things that never saw the light of day on screen. One example is when Fenster dies, McQuarrie's script says he was "the first to find some rest." All night, it was Reitman's job to read those elegant words while his actors dove into their roles, and he did so with emotion and gusto.
Back to those actors for a second. People always ask me about these live reads and, no matter how hard I try, they're hard to describe accurately. Each is a one-time event that is not recorded, featuring a very unique energy. That energy is mostly created by the actors performing these roles for the first time. However, they don't really interpret the characters written on the page like a normal actor would. Instead they generally attempt to channel the original performance of the originating actor. Verbal Kint was incredibly well-realized in McQuarrie's script but Spacey's Oscar-winning performance has since become iconic. Hall totally nailed that cadence and presence. The script doesn't specifically say that Keaton was Irish, yet Pollak used Gabriel Byrne's accent for the character. Same goes for Kroll as Fenster. McBride even put on the tough guy New York accent just like Chazz Palmintari. It's usually like a finely tuned, exciting cover band version of the movie.
And then there's the ending. That amazing ending that no one ever forgets, the revelation that Verbal Kint is Keyser Söze. In the movie, it's a perfect blend of visual triggers and repetition of dialogue from earlier in the script. What I didn't realize until this read was the script has none of that overlapping dialogue. It played strictly as Singer shot it, almost like if you pressed the mute button on the movie. That suggests it was Singer who overlapped all of those fantastic lines from earlier in the script. The stuff about "Orca fat," the barber shop quartet and "Just like that, he was gone." That was all Singer (and surely his editor John Ottman well). Which proves, as well-deserved as McQuarrie's Oscar was, Singer's directorial contribution is highly underrated and perhaps classic.
All in all, it was a great season finale with one of the greatest screenplays ever written. Reitman happily announced that he'll do more live readings next season, which would probably start in the fall or winter. Keep an eye on the Film Independent at LACMA website for more information because you won't want to miss them.