HBO Considering Cable-Less HBO Go Option For Broadband Subscribers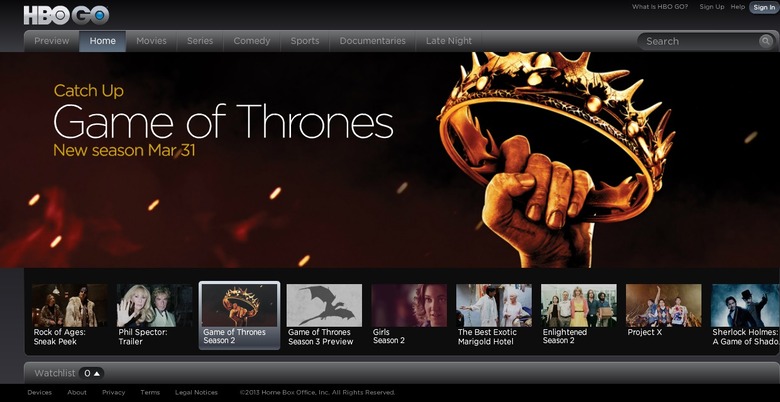 HBO Go is pretty sweet if you're already an HBO subscriber. The streaming service gives users access to HBO's entire catalog of films and TV shows — everything from Girls to The Sopranos — from any computer, iPad, iPhone, or Android phone. Earlier this year, the company further sweetened the deal by enabling AirPlay, allowing customers to play video on their Apple TVs. But all that convenience comes with a hefty price tag: a basic cable package to begin with, plus an HBO subscription on top of that. It's not uncommon for customers to shell out upwards of $100 per month in total.
From the service's launch, would-be customers have been begging HBO for a standalone HBO Go option to serve those who just want the streaming but don't want to pay for cable. So far, the premium cable giant has steadfastly insisted that the economics "are not particularly compelling." But times are changing, and as of yesterday the company is singing a slightly different tune. In a recent interview, HBO CEO Richard Plepler acknowledged that HBO Go could team with broadband providers in the future. Hit the jump to read more.
Pepler's comments aren't a guarantee that the HBO Go model will switch over anytime soon. The company still has to work out arrangements with their current partners. The fact that many cable TV providers, including Comcast, Time Warner, and Verizon, also offer broadband service would likely be a big help, but nothing's confirmed at this point. Still, the fact that HBO is talking about the possibility publicly reveals that they're giving the matter some serious thought. Combine that with the recent launch of HBO Nordic, and it's looking increasingly likely that we'll get a streaming-only HBO option sooner or later.