Watch The Full Opening Credit Sequence From 'Oz The Great And Powerful'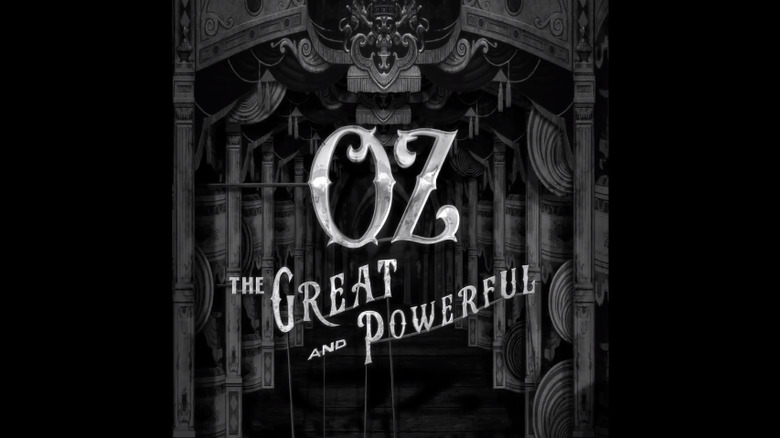 For all of Oz's magical creatures and Technicolor(ish) landscapes, none of the visuals of Oz The Great and Powerful impressed me more than the black and white title sequence by Garson Yu. And I say that as someone who actually liked the movie.
The opening credits do a fantastic job setting up the themes and plotlines of the movie ahead, inviting you into a diorama filled with whimsical imagery. But more than that, it's just plain fun to watch. Check out the sequence in full after the jump.
If you've already seen the movie, you may have noticed that the credits foreshadow much of what's to come — Oz's dance with Theodora, Glinda's flying bubbles, China Town, and Finley the flying monkey. And the strings and sticks on display are clever nod to Oz's status as an ordinary carnival magician rather than a true magician.
In interviews, Yu has cited Georges Méliès' A Trip to the Moon as one of his inspirations for the Oz opening. "He's truly a cinematic magician, and I kind of used the same idea of creating physical special effects from the old days that will expose the tricks–-show the wires connected to levitating objects, for instance," he told Co.Create. His team also did extensive research on old-fashioned fonts, circus posters, and silent film cards.
To learn more about Yu's work on Oz, read the rest of the Co.Create interview linked above or check out Cinema Blend's conversation with him. In addition to Oz, Yu and his company yU+co have also done the title sequences for Life of Pi and Watchmen.
Disney's fantastical adventure "Oz The Great and Powerful," directed by Sam Raimi, imagines the origins of L. Frank Baum's beloved wizard character. When Oscar Diggs (James Franco), a small-time circus magician with dubious ethics, is hurled away from dusty Kansas to the vibrant Land of Oz, he thinks he's hit the jackpot—fame and fortune are his for the taking—that is until he meets three witches, Theodora (Mila Kunis), Evanora (Rachel Weisz) and Glinda (Michelle Williams), who are not convinced he is the great wizard everyone's been expecting. Reluctantly drawn into the epic problems facing the Land of Oz and its inhabitants, Oscar must find out who is good and who is evil before it is too late. Putting his magical arts to use through illusion, ingenuity—and even a bit of wizardry—Oscar transforms himself not only into the great wizard but into a better man as well.