Disneyland Surveying Visitors About Possible 'Star Wars' Land; Plus, Universal Studios Announces 'VIP Experience' Tour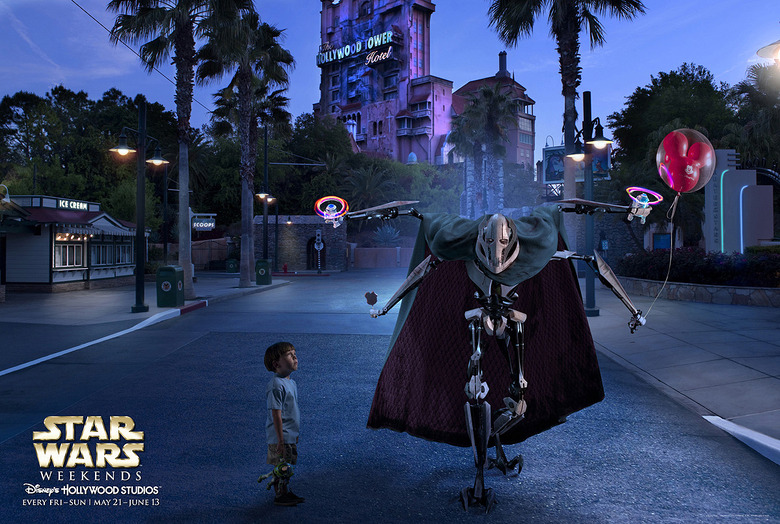 The people who run Disney Parks want to know your feelings on Star Wars. A survey is going around to select Annual Pass holders and other Disney fanatics that asks the question "How interested would you be in visiting a Star Wars themed land at the Disneyland Resort?" Obviously that doesn't mean you should book your travel just yet, but it confirms Disney is thinking about taking its new $4 billion toy out for a ride. We, unfortunately, don't have a link to the survey itself , but we've got some screencaps for you to check out.
Plus, Universal Studios Hollywood will soon be offering an upgrade to their famous studio lot tram tour. The upgrade will be a VIP Experience giving attendees unpredicented access to arguably the most famous backlot in Hollywood. Read more about both of these below.
Popular Disney message board MiceChat has a thread going on about the Star Wars survey and here are a few tweets with images. All are pretty self-explanatory.
And @imaginat1on on Twitter posted these TwitPics
Finally, it ends with this.
May the Force be with you, #StarWarsLand! http://t.co/up96NyWUbI

— Imaginat1on (@imaginat1on) March 20, 2013
Thanks to @rezalackey for the heads up. Did you get this survey? What do you think about it?
A full Star Wars Land at Disneyland is a tough act to follow, but if anyone can do it, it's the studio behind Jurassic Park, Back to the Future, E.T. and more. Universal Studios is well-known not only for their movies, but their theme parks, thanks to part to tram rides that take park guests on a tour of a movie studio. In Hollywood, this tour takes you past the Bates Motel, through Skull Island with King Kong and much more. However, you never get a chance to explore any of this. That's soon going to change.
The Hollywood Reporter says the park will soon begin offering VIP packages for $299 that include not only all kinds of special privileges (food, car service, front of the line passes) but walking tours of sets, visits to live sets of TV shows and even rare access to the costume archive on the lot. You can read more at the link.