'Trance' Green-Band Trailer: James McAvoy's Mind Is A Scary Place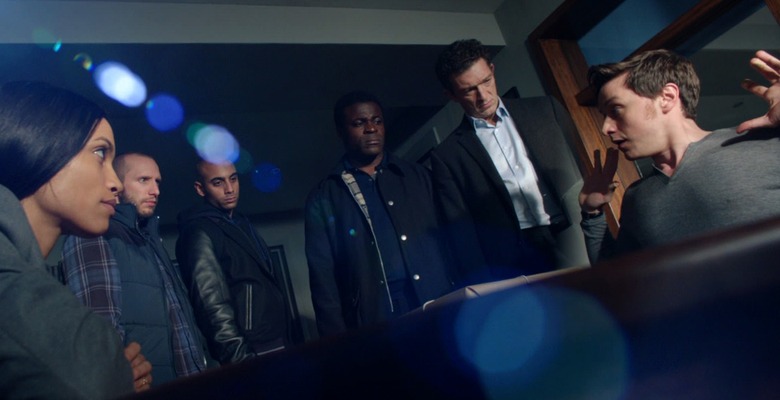 The latest trailer for Danny Boyle's Trance can't beat the earlier red-band one in terms of sex and violence, but it doesn't need to. It looks plenty dark and twisted and bizarre as is.
The trippy thriller centers on Simon (James McAvoy), a fine art auctioneer who assists in the theft of a stolen painting. When he can't remember where he stashed the stolen loot, the gang leader (Vincent Cassel) hires a hypnotherapist (Rosario Dawson) to help jog his memory. As she delves deeper and deeper into his mind, reality begins to unravel. Hit the jump to check out the trailer.
I assume the "some grizzly images" promised in the green-band card is just a typo, but who knows. This is a pretty odd-looking film, so maybe bears just play a much bigger role in this movie than we had previously suspected.
If you thought Inception was a mindfuck, this looks even more intense. At least in the trailer, there's no easy way to tell where one level of reality gives way to the next. That may turn out to be a bad thing if the film gets too convoluted and confusing for its own good, but it makes for one attention-grabbing trailer.
Trance lands April 5.
Simon (James McAvoy), a fine art auctioneer, teams up with a criminal gang to steal a Goya painting worth millions of dollars, but after suffering a blow to the head during the heist he awakens to discover he has no memory of where he hid the painting. When physical threats and torture fail to produce answers, the gang's leader Frank (Vincent Cassel) hires hypnotherapist Elizabeth Lamb (Rosario Dawson) to delve into the darkest recesses of Simon's psyche. As Elizabeth begins to unravel Simon's broken subconscious, the line between truth, suggestion, and deceit begin to blur.