TV Bits: 'The Office' (U.S.), 'The Office' (U.K.), 'Enlightened', 'American Horror Story', 'Game Of Thrones', 'Hannibal', O.J. Simpson, Eli Roth, Sam Raimi, And More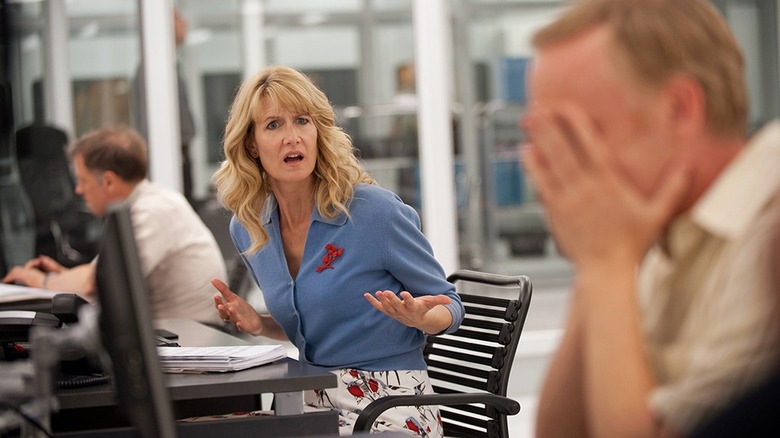 Let's just dive right in. After the jump:
Enlightened gets canned, CSI gets renewed
A Once Upon a Time spinoff is in the works
Fox is developing an O.J. Simpson series
Is Jimmy Fallon replacing Jay Leno?
Adam Green's Holliston sets a return date
American Horror Story gets a subtitle
Sam Raimi will direct the Fox pilot Rake
Adam Scott could've been Jim Halpert
David Brent returns in The Office Revisited
Game of Thrones gets a new promo and a GRRM cameo
Hemlock Grove and Hannibal get twisted new trailers
HBO reveals a teaser for Phillip Noyce's Mary and Martha
On the other end of the popularity spectrum, CBS has renewed CSI for a fourteenth season, following Ted Danson's decision to extend his contract with the series. "CSI is synonymous with CBS, and we are so proud of the series' creative and commercial legacy and its continued success on our Network," said CBS boss Nina Tassler. The current thirteenth season ends May 15. [TV Line]
Once Upon a Time could make a detour into Wonderland. ABC has begun developing a possible spinoff for the fairy tale drama, which would follow Alice and several new characters on adventures in Wonderland. Although characters from the classic story have appeared on Once before, Alice has not. Production is scheduled to begin next month in Vancouver. [Deadline]
Almost twenty years after the infamous white Bronco car chase, the O.J. Simpson murder case could take over television again. Fox has begun developing The Run of His Life: The People v. O.J. Simpson, based on Jeffrey Toobin's book of the same name. Scott Alexander and Larry Karaszewski are scripting.
Additionally, the network is also working on a new series called Shogun, about a British hero rising from outsider to samurai in 17th century Japan. Naturally, a forbidden romance is involved. [TV Line]
The Tonight Show is switching hosts again. Although a deal has yet to be signed, Jimmy Fallon is looking very likely to replace Jay Leno in the 11:30 slot by fall 2014. When the host changes, so will the location — NBC has begun working on a new studio at 30 Rockefeller in New York City to serve as the show's new home. [NYT]
Just days before Hatchet III premieres in New York and LA, Adam Green's series Holliston will make its grand return to FEARnet. The network has set a June 4 date for the second season, which will consist of ten episodes. [via Shock Till You Drop]
Here's a big hint as to what the next season of American Horror Story will be about. Ryan Murphy has revealed that the third season of the FX anthology series will be subtitled Coven, following season two's Asylum and season one's (retroactive) Murder House. The new name fits with star Dylan McDermott's earlier clue that the story would involve "all the witches of Salem." [Vulture]
Sam Raimi is the latest to join the long line of top-notch feature filmmakers crossing over to the small screen. The Oz The Great and Powerful director is set to helm the hourlong Fox pilot Rake, starring Greg Kinnear as a "brilliant, frustratingly charming, and with zero filter." While Raimi's been involved with several TV series as an executive producer (and will serve as one on this show as well), it'll be his first time directing a pilot. [Deadline]
It's tough to imagine anyone but Steve Carell, Rainn Wilson, John Krasinski, and Jenna Fischer filling the roles of Michael, Dwight, Jim, and Pam, but way back when the series was still casting there were plenty of other talents vying for those parts. Wilson recently posted a sign-in sheet for auditions of The Office, showing who else auditioned for the characters we love so well.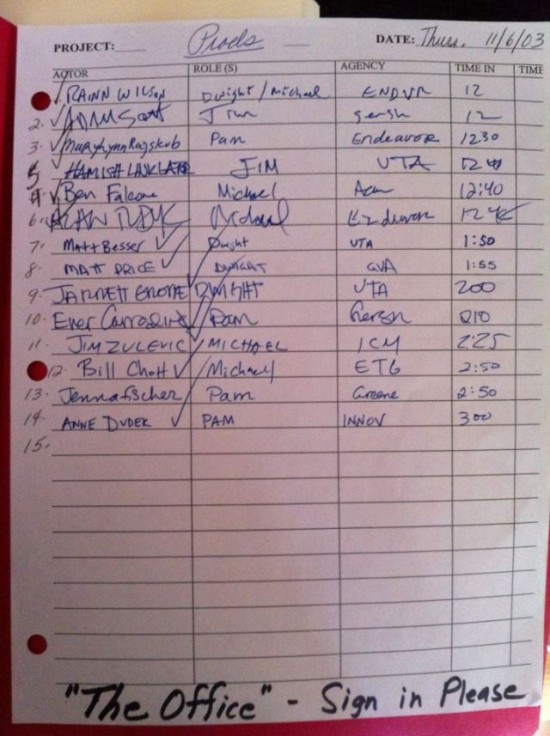 Some of the possibilities sound more bizarre than others. It's not at all difficult to imagine Adam Scott as Jim (that's essentially who he played in Party Down), but it's fascinating to think what Alan Tudyk or Ben Falcone might've done with Michael, or Mary Lynn Rajskub as Pam. [via Splitsider]
Speaking of alternate versions of The Office: Nearly a decade after the end of the British original, Ricky Gervais has stepped back into David Brent's shoes for the UK fundraising event Red Nose Day. Watch The Office Revisited below.
If you were wondering whether his awkwardness might've smoothed over some over the years, well, there's your answer. [via Screen Rant]
Game of Thrones' massive Season 3 cast is making one more last-minute addition. Author George R.R. Martin is set to make a cameo on the series, though his specific role is being kept under wraps for now. But "you will see him," promises executive producer David Benioff. [Deadline]
You probably won't find him in this new Game of Thrones promo, though. Titled "Enemies," it's a good reminder of how much all of your favorite characters really, really hate each other.
HBO returns to Westeros March 31.
Netflix's push into original programming continues next month with Hemlock Grove, from executive producer Eli Roth. Bill Skarsgard (son of Stellan and brother of Alex) and Landon Liboiron (Terra Nova) star as two teens from the opposite side of the tracks who take it upon themselves to investigate a grisly murder. Watch the trailer below.
Hemlock Grove hits the streaming service on April 19. [IGN]
Still hungry for more horror? NBC has unveiled a new promo for Hannibal, which delves into the unbalanced mind of FBI profiler Will Graham (Hugh Dancy). To help balance out his less healthy tendencies, the agency brings on some additional support in the form of psychiatrist Hannibal Lecter (Mads Mikkelsen).
Hannibal begins April 7.
Phillip Noyce has teamed up with Hilary Swank and Brenda Blethyn for Mary and Martha, an HBO movie about two moms who meet in Africa and fight to save "all the world's children."
Mary and Martha premieres April 20.